Encouraging Positive Mental Health Discussions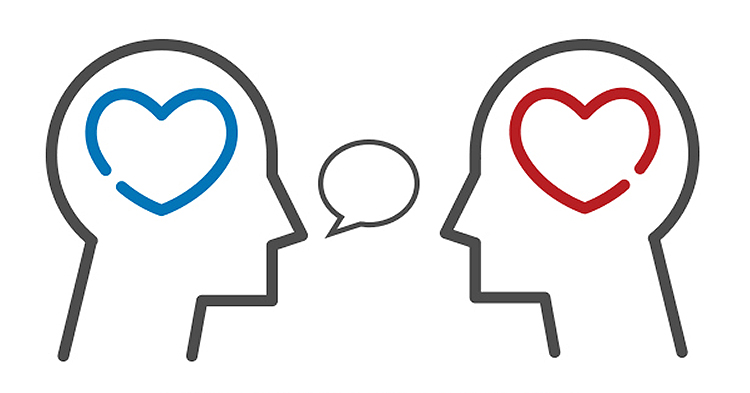 Originally published January 2018
By Meagan Gillmore
Students want to talk about their mental health.
In 2015, the Centre for Addiction and Mental Health (CAMH) reported that one-third of Ontario students in Grades 7 through 12 meet criteria for experiencing moderate to severe psychological distress—more than a 10 percent increase from 2013. This differs from students who self-report having poor mental health. The same report said 16.5 percent of students self-report having fair or poor mental health. They just don't always know where to turn for help. Researchers also found more than a quarter of Grade 7 through 12 students wanted to talk to someone about their mental health, but didn't know who to go to.
Students are unsure of where they can go to discuss their mental health problems, even as governments pour money into mental health strategies and schools develop wellness teams. Some people may still feel embarrassed to talk about personal problems, like feelings of anxiety or depression, but that may be changing in some places.
Society, in general, seems to be more conscious of the need to help people maintain good mental health, says Katherine Eberl Kelly, executive director of the Pan-Canadian Joint Consortium for School Health, a partnership of ministries of health and education across Canada. It encourages schools to develop comprehensive school health plans. When the consortium began, it focused on promoting healthy diets or physical activity, or discouraging students from doing drugs or smoking. They realized though that good mental health is the "underpinning" for good physical health, Kelly says. Mentally healthy people are more likely to take care of their physical health. Good mental health can help students perform better at school too.
Schools are key environments to promote or discourage good mental health. Teachers may be some of the first to notice changes in students' behaviour: lack of sleep, increased absenteeism, changes in mood. The consortium has developed the Positive Mental Health Toolkit to teach educators about what good mental health is and how to create environments that encourage it. The five modules focus on positive mental health, school connectedness, resiliency, school team relationships, and assessing comprehensive school health. They include interviews with experts and additional resources educators can download and use at their own pace.
"This is not rocket science," says Kelly. "Being a health-promoting school and promoting positive mental health, it's just the stuff that we should be doing every day."
Educators need to focus on all parts of the school experience: social and physical environment; teaching and learning; partnerships and services; and policy. Classrooms need to encourage learning and building relationships. Teachers can seat students in groups and walk around the classroom as they teach, instead of only lecturing from the front. They can display student artwork on the wall. They can involve students in making decisions.
Intentions are not enough. Schools need to take action, and have policies to make things happen. Belonging to a community is a key part of maintaining positive mental health. Schools need to make sure there are policies in place about how to create inclusive environments, said Kelly. Learning about the importance of good mental health can't be a "one-off" activity reserved for a special assembly, she says.
"I think mental health is everybody's business," says Sue Stephenson, a former high school teacher and principal in Ontario. "Every teacher has to think about how they can include mentally healthy activities for their kids in their classroom." This could mean making sure students laugh.
Stephenson wrote Kidding Around, a resource book to help teachers create fun activities for students, to do just that. She also founded Happiness at School, a program that brings in professional comedians to do workshops with students in Grades 7 through 12. The comedians teach students about writing and delivering comedy, as well as about the importance of good mental health. Mental health education should be prioritized as much as math scores, says Stephenson.
Humour helps build trust—a key element for learning and building healthy relationships, says Stephenson. Teachers need to show students it's normal to be emotional and upset sometimes, and that it's not wrong to talk about these feelings.
Many students feel stressed—almost 29 percent of Ontario students in CAMH's 2015 study reported experiencing high levels of stress. But some stress and anxiety is a normal part of life. This shouldn't be confused with a mental illness that requires professional treatment and intervention.
Humour helps people cope with anxiety and depression, and many comedians have struggled with depression. But that doesn't mean everyone who is funny has a mental illness.
Teachers need to see humour as a positive character trait to be developed, says Stephenson. They can encourage students to remember the good things in life. This could mean having students make regular lists of what they're thankful for, or adding humour to assignments by asking students to list funny things that happened to them during summer vacation, or having a joke of the day.
"There are two sides of teaching: the facts and the feelings," says Stephenson. "I think the feelings are as important as the facts."
Humour can't erase all problems; a joke can't stop terrorism or threats of war. But it can help students view everyday problems in a more positive light. It can also help teachers build relationships. Like students, teachers need to realize they're part of a larger community too.
"Teaching can be a bit of an isolating experience," says Kelly, noting teachers often spend lots of time alone in a classroom with only their students, perhaps without much interaction with their colleagues. Sharing observations about students' behaviour may help teachers determine if students need professional help with mental health concerns.
Regardless of their students' mental health, teachers need to remember they're teaching people—not subjects. "I think unsuccessful teachers teach a grade or a subject," says Stephenson. "Successful teachers teach kids, and they get to know them."
---
Meagan Gillmore is a freelance writer in Toronto.