Virtual Field Trips: Ancient & Natural World Wonders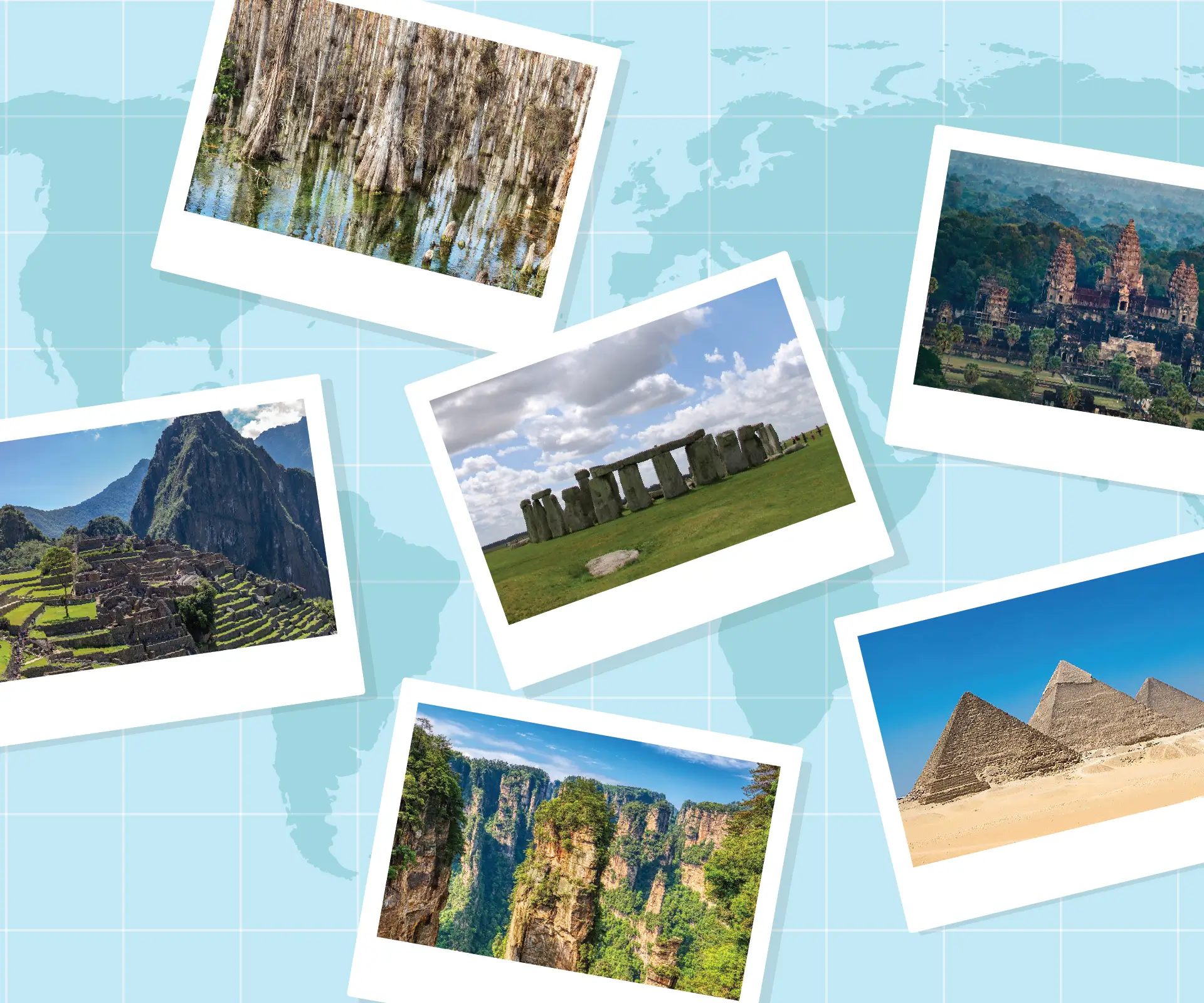 Originally published in TEACH Magazine, May/June 2021 Issue
The Earth is full of incredible wonders—both man-made and natural—that normally wouldn't be visited on a class trip. But as virtual field trips continue to increase in popularity, suddenly such faraway places seem a lot closer. Check out these 10 suggested virtual field trips to take students on a journey beyond their wildest dreams.
Ancient Wonders
These tours of iconic UNESCO World Heritage Sites are guaranteed to excite and engage students by sending them back in time to past civilizations and ancient worlds.
1. Machu Picchu (Peru)
This ancient Inca citadel was built in the 15th century and is located atop a mountain ridge in the Andes. In 2007 it was voted as one of the New Seven Wonders of the World through an online poll.
2. Stonehenge (England)
A prehistoric, circular stone monument that sits in an open field. Its history and meaning remain one of the world's greatest enigmas. (HistoryView and Great Big Story's Uncharted video series also offer plenty of insights into the architectural marvels of the world.)
3. The Great Pyramid of Giza (Egypt)
The oldest and largest of the pyramids in Giza, it was the tallest man-made structure in the world for nearly 4,000 years. It's also the only wonder of the ancient world to still exist.
4. Petra (Jordan)
Often referred to as the "Lost City," Petra is an ancient city that was carved into rock. In its heyday around the 1st century, Petra was a major trading hub that was inhabited by around 30,000 Nabataeans (an ancient Arab people). It was voted one of the New Seven Wonders of the World in 2007. (For more virtual tours of cultural and historic sites, take a look at other Treks from Google.)
5. Angkor Wat (Cambodia)
The largest religious structure in the world (by land area). When it was built in the 12th century, Angkor Wat was originally dedicated to Vishnu, the Hindu god, but was later converted to a Buddhist temple. Today it is one of the most important pilgrimage sites for Buddhists in Southeast Asia. (Be sure to use the website's Teaching Modules, designed to immerse students in the city of Angkor at its height during the 13th century.)
Natural Wonders
Nothing is more wondrous, or mysterious, than nature itself. Our planet is full of countless natural wonders—from the breathtaking aurora borealis to the majestic Grand Canyon to the letters of the English alphabet written across different landforms around Earth. With so many wonders to choose from, it can be hard to know where to start. These field trips take students to some of the most incredible landmarks the world has to offer.
1. Everglades National Park (United States)
This UNESCO World Heritage Site is also the largest tropical wilderness in the U.S. with over 1.5 million acres of wetland. (Take advantage of the website's lesson plans and activities, designed for use both in the classroom and in the park.)
2. Zhangjiajie National Forest Park (China)
Zhangjiajie was recognized as China's first national park in 1982, and as a UNESCO World Heritage Site ten years later. The park contains unique vertical rock pillars, which inspired scenery in the movie Avatar. (Check out the corresponding gallery from AirPano that shows other 360° photos and videos of the park.)
3. Sơn Đoòng Cave (Vietnam)
The world's largest natural cave (by volume) which also contains the tallest known stalagmites on Earth. Discovered only in 1991, the cave is believed to be around 2-5 million years old and has a subterranean river that flows through it. Sơn Đoòng cave has only been open to tourists since 2013, but is a fast-emerging travel destination in Vietnam.
4. Uluru-Kata Tjuta National Park (Australia)
This national park and UNESCO World Heritage Site is home to Uluṟ—an enormous sandstone monolith—and Kata Tjuṯa, a group of large rock formations. The traditional owners of Uluṟu-Kata Tjuṯa are the Anaṉgu Indigenous people. To the Anaṉgu, Kata Tjuṯa (meaning "many heads") is a sacred place that is both powerful and dangerous. Uluṟ has become known as both Australia's most natural icon, and as a symbol for the acknowledgement Australia's Indigenous culture.
5. The Great Barrier Reef (Australia)
The world's largest coral reef system, the Great Barrier Reef can actually be seen from space. It is made up of nearly 3,000 reefs and over 900 islands, and is also the biggest single structure on Earth that has been made by living organisms. It was designated a UNESCO World Heritage Site in 1981, and is considered one of the seven wonders of the natural world.
(Want to learn even more about coral reefs? Give this virtual tour of the Bahamian Coral Reef a try! It even comes with a Teacher's Guide and plenty of educational resources. The Nature Conservancy also offers two virtual field trips that focus on corals: The Secret Life of Corals and The Coral Reefs of Palau. Find them, and several other nature-centred virtual trips, here.)