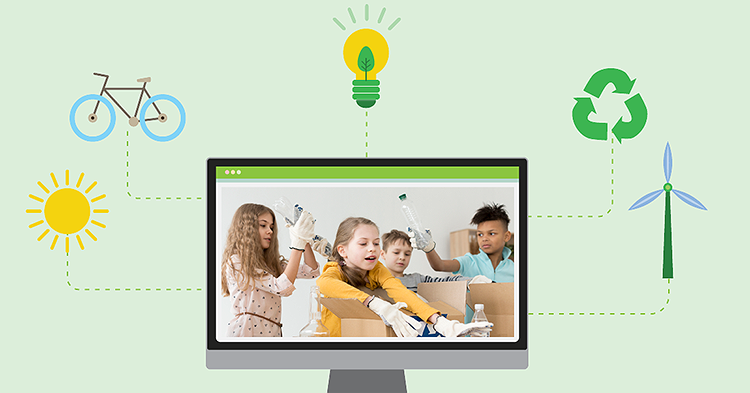 Originally published in TEACH Magazine, May/June 2020 Issue
With the warm weather fast approaching and summer right behind it, there are plenty of opportunities to discuss sustainability as students head outdoors to explore the world around them. Here are some resources to introduce concepts of sustainability in easy, digestible ways. These apps and websites are also designed to encourage students to start taking action towards a more sustainable future—both inside and outside of the classroom.
Journey 2050
(Free – Website)
More than just a website, Journey 2050 is an educational experience. Created by teachers, agricultural experts, and professional game developers, it takes students on a journey through the world of agriculture and food production while challenging them to answer the question, "How will we sustainably feed a world population of 9 billion by the year 2050?" The program offers 7 hours of free games, videos, and interactive activities that tie into grade 7-12 curriculums. Lesson plans are provided and guest speakers are available to deliver class presentations in some provinces/states.
Earth Rangers
(Free – Website, iOS, Android)
By signing up to become an Earth Ranger, students ages 8+ can take matters of sustainability into their own hands. Membership is free through the Earth Rangers app and gives students access to 20+ real conservation projects, educational videos, the Earth Rangers podcast, and much more. Upon registration, a personalized membership card and welcome package is mailed to each member.
Kids vs. Plastic
(Free – Website)
An extension of National Geographic, this online resource is a useful way to start teaching children ages 8+ about the impacts of single-use plastics. From plastic reduction tips to crafts and DIY videos, there are plenty of hands-on activities to help kids take action against plastic pollution. They can even earn a Planet Protector certificate by taking the Kids vs. Plastic pledge.
Joulebug
(Free – iOS & Android)
Suitable for students in grades 6 and up, this app is designed to make sustainable living a fun and social experience. JouleBug promotes sustainable habits at home and during play by organizing sustainability tips into actions, such as: ride a bike to school, bring lunch in a reusable container, plant a tree. Videos and links accompany each action to provide an additional learning experience. Each time an action is completed in real life, it can be logged on the app to earn points. Students can compete with their friends and in local challenges to earn badges and medals.