World Geography Apps and Resources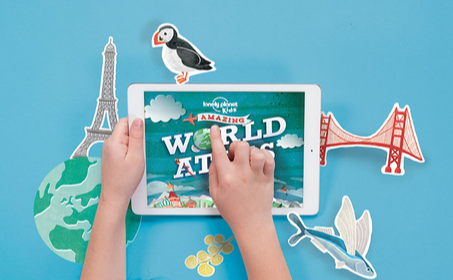 The lone classroom globe or heavy set of atlases used to be the best resources for world geography, but now the world is literally at your fingertips with modern-day maps. Below are some interactive websites and apps that can take you around the world without having to leave your front door.
Kids may not be old enough to go off the beaten track and backpack across Europe, but Lonely Planet, the well-known publisher of travel guides, has released an app for kids to explore the world. Amazing World Atlas has five different types of games with over 30 levels of play, including Map Blitz where players match up a flag and place name with its location on the map. For a more challenging experience, users can try Map Repeat the Pattern that has them watch the game light up countries in an order and repeat the pattern correctly to win. And in World Matchup, players compete against the clock to match the flag, animal, or monument to its continent. Purchase this app from the App Store, Google play, and Amazon for approximately $4.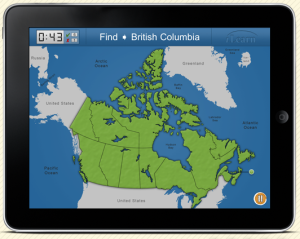 iLearn: Canada
Designed by an educator, iLearn: Canada is a fun way for students to learn the names and locations of our provinces and territories. Users can choose from three different modes. In the Learn Mode, they can tap anywhere on the map to see the name of the province or territory and read some quick facts. In Game Mode, students race against the clock to identify as many locations as possible in only a minute. Points are awarded to the fastest times and a leaderboard keeps track of the highest scores. In Test Mode, the clock disappears and scoring is based on the total number of attempts to correctly identify a region. This app is sold at the App store for about $1.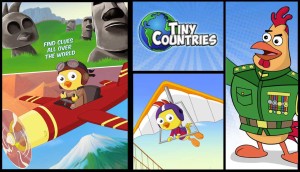 Tiny Countries
Tiny is a little chick on a big adventure. He's been assigned a mission to travel the globe and stop Dr. Evil, a wayward Rooster, from moving the continents to form a rooster-shaped mega world. This narrative sets the stage for students to test their geography knowledge and decode clues to help Tiny. The app was designed by Tap to Learn and covers 75 countries and over 6 continents. Users will learn about countries, capitals, and famous monuments in an engaging format. Tiny Countries can be purchased from the App Store or Google play for approximately $5.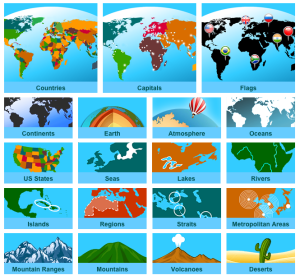 World Geography Games
This free website tests a range of world geography strands in a series of visual and kid-friendly quizzes. Users can learn about continents, countries, capitals, flags, metropolitan areas, and islands among a variety of modes. In countries mode for example, users select a continent on which to focus their geography skills and are presented with its map. They are then asked to identify each country within it and are scored based on the number of attempts. All 193 members of the UN are included, as well as Taiwan, Kosovo, and Vatican City. The website can also be accessed in Dutch, French, German, and Spanish.