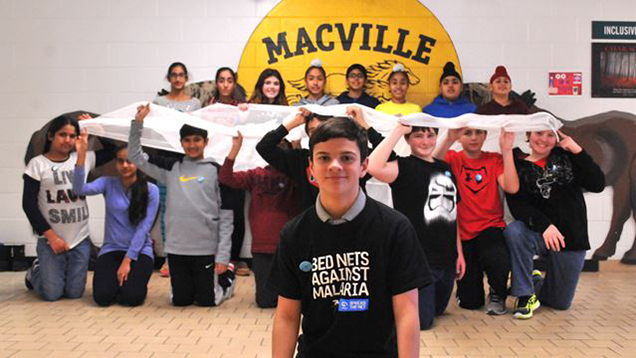 Originally published in TEACH Magazine, November/December 2016 Issue
By Lorraine Lapp
It began on a lovely spring afternoon in 2015, when a Grade 7 student came up to me during recess:
Student: "Do you know Rick Mercer?"
Me: "Yup."
Student: "Do you know about his Spread the Net?"
Me: "Yup."
Student: "Could we do that?"
And with that brief exchange, a seed was planted, one that would eventually grow into one of Macville Public School's most powerful and positive experiences. The Spread the Net Student Challenge is a friendly competition between Canadian schools to raise funds for malaria-preventing bed nets for families in Africa. The fundraiser is run by Plan International Canada and the top schools win a visit from Rick Mercer, a Canadian comedian who pokes fun at current events on CBC Television's Rick Mercer Report. He also co-founded the Spread the Net initiative.
We kicked off the Challenge with an early-January assembly led by the Grade 8's who were eager to shine as school leaders. The goal was to raise $2500 in only two months—about $10 for each of our 240 K-8 students. Using props and promotional materials provided by Plan International Canada, they described how $10 would buy one bed net to help save two lives from malaria. I remember looking down at the faces of some of the kindergarten students—they may have been paying attention, but they weren't making connections—yet. Within a few days, the kindergarten classes would play a major role in the campaign.
Our first fundraising event was simple: a volleyball tournament during recess. Charging a $1 admission to play or watch, we collected our first $50. A few days later we hosted a spelling bee for Grade 1 to 8 spellers and their fans who each paid $1 admission—another $50! Next came an indoor soccer tournament suggested by our Grade 3 students. More than $100 was raised. The students kept asking for more events.
A group of Grade 3, 4, and 5 artists then asked if they could sell their drawings, paintings, and origami. They worked on their own time and set their own prices: another $100+! Students made daily announcements about Spread the Net and signs were posted advertising each event.
When some of the "kindies" created a jewellery store as part of their play-based learning, one of their teachers realized she could make the social justice issue relevant by putting the students' jewellery-making talents to work. Simple and inexpensive materials such as fabric, cords, beads, and washers were painted with nail polish or decorated with flashy stickers transforming them into funky and fun items. Class-created posters advertised the sale and notes were sent home to parents. The "kindies" set up shop in their classroom, complete with cash register and store-front signs. Opening day brought in more than $300!
Another student in grade 3 asked her mother if she could sell hot chocolate at a pond rink close by. After municipal approval, and with strong support from the community and her family, she raised $300.
Other students even donated their birthday money!
Our most memorable fundraising event was undoubtedly "Pie in the Face." Ten teachers volunteered to be "pied" with whipped cream in front of the whole school in exchange for donations. For each $5 donation for this event, students got a ballot for the chance to be the pie thrower for a particular teacher. Take it from me—nothing spells school spirit more than having cold, sticky ooze sliding through your hair and down your face while 250+ people howl with laughter. This event was a fan favourite, raising more than $1500, mostly in coins. What was to be done with all that change? It helped to have a colleague whose bank account included a no-fee coin-counting service!
The Grade 7's and 8's, who were leading the Challenge, designed a fundraising thermometer that was posted in a hallway. The thermometer's gauge was marked by dollar amounts and hand-drawn mosquito logos. Each mosquito represented $100 collected. We soon needed another thermometer, then another… then the $100 was changed to $500…then we began to lose track of how many mosquitos we needed!
Near the end of the Challenge, we held another school assembly that attracted a wider audience, including the mayor, regional media, and a former student and local business owner who presented us with a $1000 cheque! Our efforts had reached the broader community. The buzz grew. Donations poured in online right up until the midnight deadline at the end of February. Ultimately, we raised $11,474—enough to provide almost 1200 malaria-preventing bed nets for families in Africa.
And it wasn't over yet. Thanks to overwhelming student and community response, our small, rural school won the top spot in all of Canada in the elementary category. Early in March 2016, Rick Mercer and his television production team visited. He was recorded crafting jewellery with the "kindies," interviewing the Grade 8's who led the Challenge, and even being "Pied in the Face", all for part of the 2016 Spread the Net Student Challenge winners' episode of the Rick Mercer Report.
Participating in the Spread the Net Student Challenge ended up being more than just winning a prize. Our collective community spirit and engagement reached a level I haven't experienced since I began teaching at Macville Public School more than 15 years ago. It began with an idea suggested by a student that evolved into a movement led by youth, for youth. The students, even the youngest ones, understood that every dollar raised, every poster they created, and every new fundraising event that took place went toward helping real children and their families to have bright and healthy futures. The campaign moved fast, was fun, and reminded our students that the power of one person's idea can change other people's lives. Many of our students' ideas can be applied to future fundraisers while continuing their legacy of being active local and global citizens who are creating profound and positive change.
---
Lorraine Lapp is a teacher at Macville Public School (Peel District School Board).