The Search for the Right Picture Book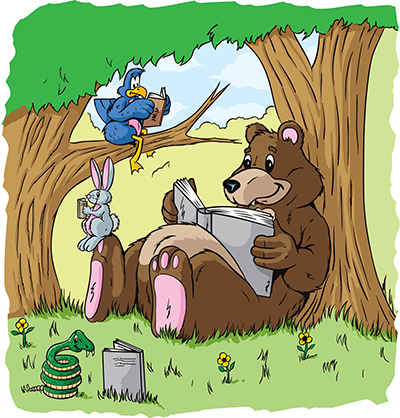 By Paul Condello
I avidly recall a second grade class that would excitedly huddle around my rocking chair for story time. Students scrambled around sliding chairs to the carpet where I read heartwarming and sometimes zany tales, they reminded me that story time was counted among the most meaningful and cherished moments of a child's day. Story time is a child's portal into endless worlds, kingdoms, and dimensions. Children learn by, grow from, and discover the ways of the world through the literature a teacher brings into the classroom. Because story time is both a vital and valued experience in a young child's day, educators are called to wisely deliberate over the literature they read to their students.
One important factor in considering the purchase of a picture book, or borrowing one from the library, is the book's message. Many children's books have a moral, such as the importance of friendship or respect. Students learn important values about caring, sharing, and responsibility from books, and educators should try to choose literature that strongly emphasizes at least one or more values. Chris Van Allsburg's The Polar Express, for example, delivers a life lesson about the power of believing. Children glow in anticipation when teachers open the cover of this breathtaking and inspiring tale. I was also enchanted by this masterful and beautiful story as a child, and now recognize it among the works of fiction that built my love for literature and learning.
Another important element to consider when selecting a book is its academic value. Many picture books deliver fascinating information, the readers and listeners realize they are learning. For example, a group of children will finish a spooky tale about bats without recognizing at first that they have learned several important zoological facts about the habits of nocturnal creatures. Or, after reading a story about trains, children will discover what a conductor does.
The artwork is also an essential element of a picture book. A captivating story should be supported by equally creative images. Warm, imaginative illustrations resonate with young audiences and hold their attention. They say a picture is worth a thousand words and when a book is filled with beautiful drawings, the story transcends language and reading capabilities, making it accessible to all.
Educators can also consider illustrative and literary merit of a book by focusing their search on titles that have received literary awards. Mordicai Gerstein's The Man Who Walked Between The Towers has received the esteemed Caldecott Medal that is presented to only one picture book each year. Another annual award many educators will recognize is the Newbery Medal, which awards an author for the most distinguished contribution to American children's literature. Accolades are often trustworthy guideposts in the search for the next story time tale.
Whether perusing award-winning books or not-yet-discovered gems, always consider stories featuring endearing characters. A child often establishes a connection with a book through a character with whom they can identify or admire. Characters should be reflective of the struggles, joys, and aspirations that children experience in their own lives. Skilled authors and illustrators can craft characters that touch readers' hearts with their own. Children should discover an answer to their hopes and questions in a compelling storybook character. Rudolph the red-nosed reindeer in Rick Bunsen's children's book, features a beloved character loved by children around the world.
Through the critical evaluation of picture books, educators are able to introduce their classes to reading materials that are beneficial for moral and educational growth. Picture books inspire children to greatness, teach them kindness, enthrall their imaginations, and instruct them about the world. Selecting the right book for a classroom may be a weighty and critical task for an educator but can be very rewarding when you see the students' faces light up as they gather around for story time.
Paul Condello is a K-8 certified public school teacher based in the United States.