Interview with Bruce Rodrigues, Deputy Minister of Education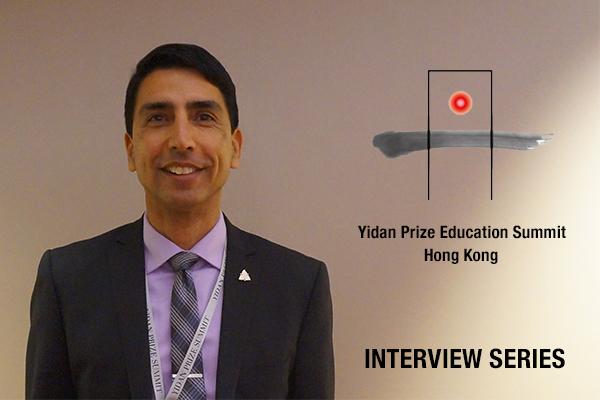 Originally published, February 2018
Bruce Rodrigues is the Deputy Minister of Education in Ontario. We recently sat down with him to discuss his thoughts on the education system, at the inaugural Yidan Foundation Education Summit started by philanthropist, Charles Chen Yidan.
Interview with Bruce Rodrigues, Deputy Minister, Education, Ontario
Q: What do you think is the secret to the quality of the education in Ontario?
A: There really is no secret. We have what's called, collaborative professionalism. We really try and get everybody at the table as changes [to education] are being made. We recognize—and the research is clear—that when you get more people involved in the process, it's more likely the implementation will have a deeper dive. So, whenever we try to make changes, we include teacher federations, business partners, parents, teachers, principals, and all of the education partnerships.
Q: Can you explain what is EQAO?
A: Certainly, EQAO is the Equality and Accountability Office that oversees all of the provincial assessment in Ontario. There's census testing in Grade 3 and Grade 6— reading, writing, and math; in Grade 9—math; and in Grade 10—literacy. The Grade 10 [test] is a requirement for graduation so students must pass.
Q: What do you say to those who are against standardized testing?
A: It's important to understand the various dimensions of assessment. You have classroom assessment, provincial assessment, and international assessment. All have different purposes. Ontario has an expectations-based curriculum and the expectations can be demonstrated in multiple ways. They don't have to be demonstrated through a paper and pencil test. We also need to change students' thinking about assessment. It's not uncommon that if you put something on the board, a student will put up their hand and ask, "Miss/Sir, is this going to be on the test?" And if it isn't, they'll feel comfortable putting their pencil down. We need to get teachers and students to understand that it's not about a punitive assessment paradigm in some way, rather it's about assessment for learning, as learning. We need to understand more deeply and value the professional judgment of teachers, and enable them to provide for parents what it is their son or daughter can do.
Q: Cherie Blair (an advocate for education) has gone on record as saying that she thinks that governments are underfunding education—on a global basis—do you think that's true and do you think that's true in Ontario?
A: I think the numbers certainly show that.
Q: Why do you think that is?
A: Some of the funding for education is measured by a percentage of the GDP (Gross Domestic Product). In Ontario, the education budget is close to or just under 5% of the GDP. However, when you look at the actual funding in terms of the overall dollars that are spent, education is second to only healthcare. Sure, you can spend more on education, but I think you need to put it in the perspective of education being a lifelong journey. Often, we measure education as the K-12 piece, but what we need to understand is—and that the research is showing—if we want to support students as they move through the system, we need to look at the early years as well. In Ontario, for example, we are committed to 100,000 licenced child care spaces in the early years.
Q: Does it seem like healthcare is eating up more of the provincial budget as opposed to education?
A: I honestly don't see there being a one-to-one correspondence. When we're looking at education, we're not just talking about achievement, we're talking about well-being and mental health as well. And so, the healthcare system can help supplement those other areas for us.
Q: Ninety percent of the dollars spend on education is for teachers' salaries, leaving 10% for the rest. How do you leverage that?
A: The research is clear—the main person who really influences student success—is the teacher and second only to the teacher is the parent. Because of that, we need to spend that amount of money on salaries to build the capacity of teachers, in order to deliver what it is we're asking them to deliver, and have them on board as partners.
This interview has been edited and condensed for clarity.