It's Back-to-School Season—for Students, Faculty and Germs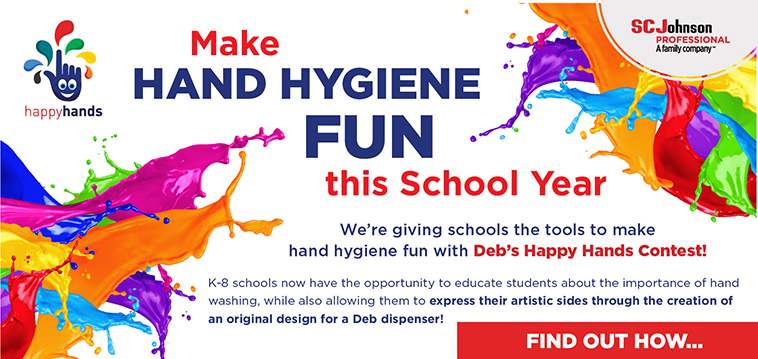 This post is sponsored by Deb
It's Back-to-School Season – for Students, Faculty and Germs
By Patrick Boshell, Marketing Director, Deb Canada, part of SC Johnson Professional
Back-to-school season means a return to cold and flu season. With students, teachers and staff spending several hours each day within close proximity of one another, germs spread easily, leading to school outbreaks and frequent absenteeism that can harm student performance and a school's reputation. In fact, some Canadian provinces have recently introduced tougher school attendance policies[1]. To prevent infection and limit germs at school, faculty must take the necessary steps to erase germs. The simplest, most effective way to prevent the spread of disease is hand washing[2].
Hands are responsible for spreading 80 percent of all common infectious diseases[3]. A study by the National Sanitation Foundation (NSF) International[4], measured the number of aerobic bacteria per inch on common school surfaces and found the worst offenders are water fountains, cafeteria trays and plates, water faucets, computer keyboards, teacher's desk phones and unsurprisingly, toilet seats. The study also found that a student's hand holds 1,500 germs on average.
To tackle this complex problem, it's important to remind students and staff to wash their hands correctly before and after certain activities, including:
Preparing and eating food– To ensure students remove playground germs, teachers should enforce a routine visit to the restrooms to have students wash hands before and after eating. Using hand sanitizer before and after eating is also encouraged for increased effectiveness.
Bathroom breaks– Many students and even some faculty walk out of the restroom without washing or drying their hands effectively. To remind everyone to wash their hands, it's important for schools to provide effective and accessible soap and sanitizers within restroom facilities. Additionally, educational hand hygiene posters should be placed on stall doors and mirrors.
Coughing or sneezing – One sick individual can quickly contaminate a school. If a student can't wash his or her hands every time they cough or sneeze, make sure hand sanitizer is easily accessible and used until the student can rinse hands with soap and water.
Feeding or touching animals– Whether it's a classroom pet or a show-and-tell highlight, all students and faculty should wash their hands after touching or feeding any animals to limit the transfer of dangerous pathogens.
Handling garbage– Events throughout the day, particularly snack time and art class, can be messy and result in the buildup of trash. For anyone handling germy garbage, ensure proper hand washing takes place before moving on to the next activity.
As millions of students and faculty members begin a new school year, it is essential to take steps to create a safe and healthy learning environment. By following the World Health Organization's (WHO) 6-step hand washing technique[5], students and school staff can use proper hand washing to limit the spread of germs and promote a cleaner environment throughout the entire year.
It's Time to Register!
WE THINK THAT HEALTHY SCHOOLS AND HAPPY STUDENTS GO HAND IN HAND
That's why we're giving schools the tools to make hand hygiene fun with Deb's Happy Hands Contest! K-8 schools now have the opportunity to educate students about the importance of hand washing, while also allowing them to express their artistic sides through the creation of an original design for a Deb dispenser!
Visit our website for full contest details!
[1] https://www.cbc.ca/news/canada/nova-scotia/nova-scotia-public-school-education-absenteeism-policy-1.4298089
[2] https://www.cdc.gov/features/handwashing/index.html
[3] http://info.debgroup.com/blog/what-is-the-correct-hand-washing-technique
[4] http://www.nsf.org/consumer-resources/studies-surveys-infographics/germ-studies/germiest-places-schools
[5] http://info.debgroup.com/blog/what-is-the-correct-hand-washing-technique