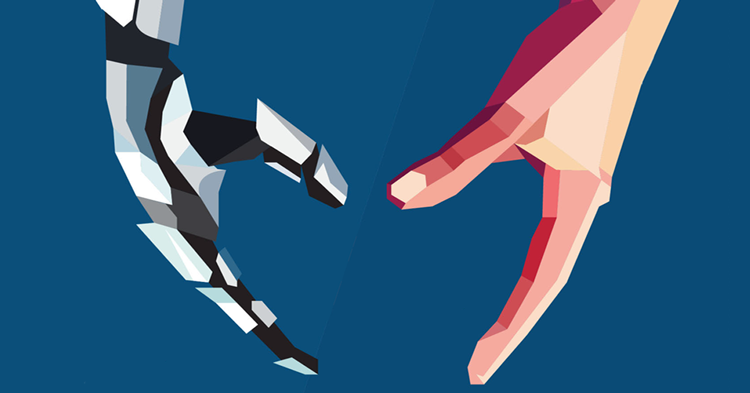 Originally published in TEACH Magazine, March/April 2018 Issue
By Meagan Gillmore
When Tina O'Keeffe was asked to start a FIRST Robotics Club at Esquimalt High School in Victoria, BC, the former computer technician automatically knew her response: No.
Computers have been her passion since childhood, but she didn't think she had time for another extracurricular commitment. FIRST Robotics teams build robots for competitions. They need to make the parts and fundraise; O'Keeffe compares it to preparing a basketball team for tournaments.
She knew one of her students "lives, eats, breathes, sleeps" technology and engineering and really wanted to do the program. She gave him one afternoon to find other students interested in the club. He came back with eight names. Once she saw the interest, she knew she needed to start something. When they presented the idea to the whole school, more than 30 students showed interest. Only 18 decided to join the club, captained by the student O'Keeffe sent to recruit others. The club began in January and finished constructing its robot, named Spike, by the end of February.
"It's been quite the ride," says O'Keeffe. She estimates it took about 60 hours—including some weekends and evenings—to create the 120-pound robot. Her commitment has just begun. She wants to take Spike to elementary and middle schools and introduce younger students to robotics. She could teach them someday: she's developing a full robotics course she'll be teaching for the first time this September.
Robots aren't just hobbies for students tinkering in basements or garages anymore. Many schools start robotics classes after seeing how popular the clubs are. This may make teachers nervous. Teaching a course requires more time and resources than running a club. But as automation impacts more parts of society and transforms the labour market, many argue learning robotics and coding is as important as literacy and numeracy.
"Technology is such a big part of education these days," says Jonathan Kaiswatum, principal at Cowessess Community Education Centre in Cowessess, SK, east of Regina. The school started offering weekly robotics classes this year for Grades 5 through 7 students as part of the RoboYOU program funded by Innovation Saskatchewan. Schools need to prepare students to be good digital citizens, he said.
"This is the future, and the future is now," says Kevin Chiasson, a shop teacher at Minahik Waskahigan High School in Pinehouse Lake, SK. A carpenter by trade, he used to teach in Yorkton, SK, where for almost a decade he took robotics teams to Skills Canada competitions. His teams became national champions and competed internationally.
Curriculum needs to include more practical, hands-on skills, says Chiasson. He is a member of the Skills Canada Saskatchewan technical committee. Robotics engages students more than anything he's ever taught.
Teachers need the right materials, and most importantly, the right mindset, to teach robotics well.
Teachers must pick robotics materials wisely. Many companies make kits to teach robotics: LEGO Mindstorms, Sphero and EZ-Robot are a few. Kits can be pricey, especially if they require purchasing tablets or other devices to run the programs, but not everything is expensive. Chiasson says his first robotics club used materials they gathered from junkyards. As the club grew, they were able to get community donations. This is his first year teaching in Pinehouse Lake, and the club he's starting there is using his personal supplies.
"Hardware is available anywhere," says Matteo Hee, a teacher at Bellerose Composite High School in St. Albert, AB. He recommends teachers learn how to work with something simple first. Right now, he likes using the Hummingbird Robotics Kit, partly because it uses a program similar to Scratch, a block coding program many teachers already use. Hee encourages teachers to look for materials that come with professional tutorials that explain how the kits work. Once teachers and students are comfortable with one kit, they can begin using another.
Preparing to teach students takes time. Students are most likely to ask the teacher questions when they don't understand something, or when what they're doing isn't working properly, says Hee, who has also given professional development sessions about teaching robotics. Teachers need to prepare for common mistakes, like not connecting parts properly. They also need to be ready to work with different programs and computer systems.
The most important resource teachers have is people. It takes a team to build a robot, and it also takes a team to create a robotics course. When Chiasson first became interested in teaching robotics he didn't even know how to program a radio. What he did know to do was ask other teachers questions. His queries were "endless," he says: he wanted to know about different motors, controllers and receivers.
Teachers can—and should—learn from their students. The key to successful teaching is "giving up the idea that you are the expert and you know absolutely everything," Hee says. Robotics is part of students' everyday lives; many have probably built more robots than their teachers. Students may help their teachers. When Tina O'Keeffe's students were finishing building their robot Spike, they didn't have the nut they needed to use with their lead screw. The team captain had to break the news to O'Keeffe. Before she could panic, he told her he'd already solved the problem: he'd designed the nut on a 3D printer and printed it out. It was "ingenuity at its finest," O'Keeffe says.
Not all students are experts. Hee says he makes sure to review even basic skills, like opening computer programs to run the applications. But teachers shouldn't worry the range of skills will hamper learning. Karl Nicolas runs robotic clubs for children up to age 12 at the Toronto Public Library. The program is extremely popular, and it can be hard to make sure every child gets time with the robots. He has seen more experienced students teach others about what they know so they can do better. Teachers don't need to always separate students based on their skill levels, he says.
The biggest challenge many students face is taking concepts out of their heads and turning them into physical objects. Chiasson says curriculum that doesn't emphasize hands-on application contributes to this problem. It's another reason he says teachers need to be familiar with the robotics tools they're using. They need to show students how things work. "We have a lot of people who can repeat [information] and mimic," he says. Robotics allows students to apply what they've learned and creatively solve problems. Different students approach similar problems in various ways.
Robotics can bring abstract STEM concepts to life. "They can physically see what they're doing on the screen having an impact on the robot," says Nicolas. "They light up every time they see that kind of connection."
Ann Poochareon is co-founder of Little Robot Friends. It is a Toronto-based company that makes small robots children can program to express emotions when they're touched. The robots can't run away, and students turn their robots into characters. Robots respond to different touches, so students learn about empathy while programming them. The company recently started camps for children and is making resources educators can use. They emphasize creativity and technology: children make circuit boards or mazes; before programming robots to sing, they learn about frequencies and Theremin.
"Not everything happens in the computer," she says. "Things that happen in the computer can come outside and affect something that's around you. It's an interesting world that we've constructed around learning on the computer, because a lot of times things get stuck on the screen."
Robotics connects students to people—whether in different grades, or different countries. Sarah Sils started teaching after a career in telecommunications, largely to encourage more women to pursue careers in technology. She helps run the FIRST Robotics team at St. Mildred's-Lightbourn School, an independent all-girls school in Oakville, ON.
SWAT 771, which stands for "St. Mildred's Women Advancing Technology," has won awards at world competitions. They name their robots "Mildread"—a play on the school's name that reminds other competitors their robots should be feared. In 2017, they signed an online petition when an all-girls robotics team from Afghanistan was originally denied entry to compete at a FIRST Robotics Competition in the United States.
"We felt this affinity," Sils says of the team's reaction. "How dare they ban such a noble cause? This is not OK!" The Afghan team, called the Afghan Dreamers, was eventually allowed to compete in the United States. Students at St. Mildred's have maintained the connection. The Afghan Dreamers came to Ontario in January. SWAT 771 has helped them build their robots; the Afghan girls weren't as familiar with all the tools SWAT 771 uses.
Some of the Afghan Dreamers visited Parliament Hill where Prime Minister Justin Trudeau drove their robot in the Parliamentary Library. Sils, the only SWAT representative there, says the Prime Minister was as excited as a child at Christmas. He "looked like a young kid driving that robot."
The two teams competed separately across Ontario in March, but Sils hopes their relationship lasts beyond this year. "Hopefully [they'll] be able to take this excitement and learning back to their own country," she says.
---
Meagan Gillmore is a freelance writer in Toronto, ON.