Creating a Reading Culture (Even When You're Low on Time and Funds)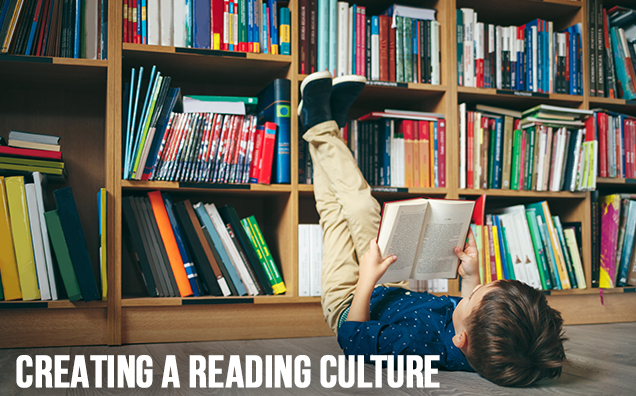 Originally published in TEACH Magazine November/December 2018 Issue
By Paige Classey Przybylski
"Why read when you can watch the movie?"
"I'm just not a reader."
"Reading's boring."
In my eight years as an educator, no other sentiments have been quite so crushing to hear from children. I've found that many students have a bleak attitude towards reading: reading is too dull, too difficult, or something to get through (or cheat through) in order to get a good grade. As a classroom teacher, I wanted my students to feel the same enthusiasm and excitement towards reading that I feel, but also found myself trying to navigate a packed curriculum, a shrinking budget, and other significant demands on instructional time.
When I made the transition from high school English teacher to middle school media specialist last year, I found myself presented with the thrilling opportunity to focus my energy on promoting a positive reading culture in my new school. We know our students need to read to improve their brain power, build empathy, and enrich their lives, but how do we accomplish that while fighting a tide of negativity, a limited budget, and a full curriculum? Here are a few small practices that can make a tremendous impact.
Walk the Walk
Students should see that the adults in their lives value reading. Modeling will help them to view reading not as a mere task to complete, but as part of a healthy lifestyle beyond school. Another librarian in my district includes the books she is reading in her e-mail signature. Similarly, my school's reading specialist and literacy coach posts pictures of the books they're currently reading on their board.
These are simple ways to show students and staff the importance of reading, while also opening up a new channel of communication. Students who have read the posted books can discuss them with the teacher, while other students may be intrigued by these exchanges or by the book covers, and then pick up the book themselves.
A third way of presenting ourselves as readers to students is through the creation of staff and student book clubs. While more time-consuming than the ideas listed above, these clubs help to create rich communities of readers. Book clubs can meet daily, once a week, or even once a month and don't require a budget.
I began a 6th grade book club last year that has now carried over into the students' 7th grade year and has even expanded to admit new members. A group of 8th graders also recently approached me to ask if I would oversee another book club for them. We look forward to these weekly lunchtime meetings where we share recommendations, read short stories and poems, and discuss important topics such as censorship.
Provide Options
Educators know that students appreciate choice. While we may not always be able to offer choice in terms of the curriculum, we can always provide students with options for personal reading. One way of matching students with high-interest texts is presenting five-minute book talks.
Taking just a few minutes to showcase a book students can borrow—by reading the jacket, sharing an intriguing passage to highlight the writing style, and showing the cover and thickness of the book—will help match students with books they may be genuinely interested in. This can also be a helpful method of providing students with books that meet their reading levels. Book talks spark interest in older titles as well as new; my book talks in September inspired students to check out titles like The War of the Worlds and The Face on the Milk Carton.
Making lists of recommendations by genre also increases ownership over book selection. I have created lists that include the titles of popular books, a brief synopsis for each, their call numbers, and images of book covers. Instead of blindly matching a student with the first science fiction book that comes to mind, for example, these lists provide students with many options within their preferred genre(s). This practice has been so successful in my library that I've expanded the traditional genre lists to include books about animals, books that have been challenged or banned throughout history at various libraries, and more.
Present Reading as a Privilege
Last year, I received a grant from the Milford Education Foundation to transform our rarely-used reference section into a comfortable "book nook." Students are able to use the bean bags and cushioned chairs in it while reading or working on a project. Even older students are not immune to a "cozy corner" of the classroom—the 11th and 12th grade students at my former high school were thrilled when they could sprawl out on the floor with a pillow or sit on a donated couch as they read.
The furniture of a book nook does not need to be fancy or expensive. You can accept donations or pick up cheap pillows and chairs. Low on time for independent reading in the classroom? Allow students to read if they have completed their work early or as you conference with other groups.
I have also been able to arrange free or low-cost Skype sessions with authors, which I then promote as special events. The authors often talk about their all-time favorite books or the books that inspired them as children, which reinforces the importance of reading to students and also presents writing as a real career possibility. Students look forward to these sessions and feel honored to engage with famous writers.
What kindergartener isn't entranced by story time? Somewhere along the line, many of our students lose that initial fascination and excitement. My hope is that we, as educators, can work to maintain that momentum and create lifelong readers.
Paige Classey Przybylski is a media specialist at Harborside Middle School in Milford, Connecticut. She has a B.A. in English and an M.A. in Curriculum and Instruction from the University of Connecticut.