Fostering Engagement Through Collaboration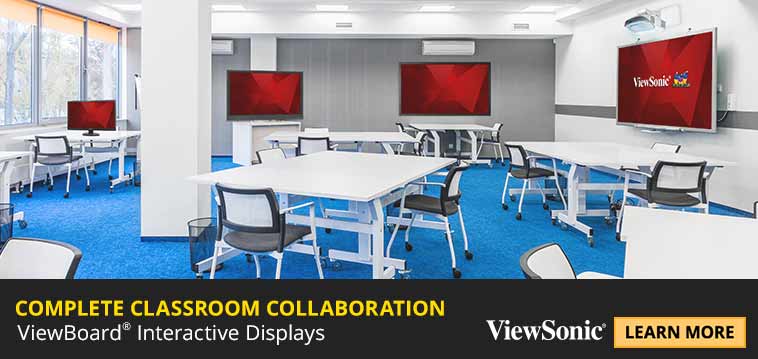 This post is sponsored by ViewSonic
Originally published October 2019
By Lance Key, Google Certified Innovator and Trainer
Yes, "engagement" has become a bit of a buzzword. As educators, we shouldn't let that dampen the reality of its importance. In my 15 years of teaching, I've come to believe that to teach well we first have to engage. So many things today compete for our students' attention, and most of them—like YouTube and social media—are better at capturing it than we are. And then our students come to class and sit for 50 minutes, unmoving, and unengaged—and as a result they're not absorbing the content.
Finding ways to engage students is my fundamental mission as a Google certified innovator and trainer. For me it boils down to two things: kinesthetics and collaboration. To keep kids involved—really involved and engaged—we need to get them moving and we need to get them working together. I've seen it work in so many classrooms. Students come to class excited to be there, knowing they won't just be sitting there, receiving a lecture. They begin to take ownership over their learning and to reflect on what they're doing. They develop the critical soft skills that come from collaborating, like how to listen actively, share ideas respectfully and artfully compromise.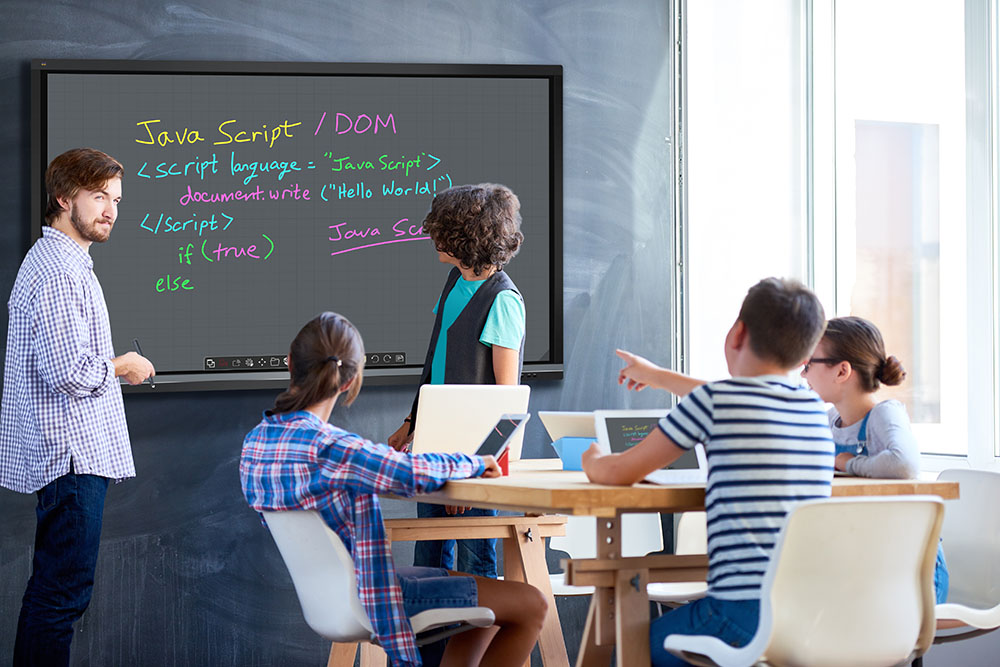 When educators match their teaching goals with methods that are relevant and engaging to students, everyone wins. Classroom management gets easier. Student success soars. These successes begin a cycle of positive achievement in the classroom. My method of choice for bringing more collaboration, engagement and learning into classrooms is to pair an interactive display, such as a ViewSonic® ViewBoard® interactive flat panel with myViewBoard™ digital whiteboarding software, with the powerful capabilities of Google.
---
Teaching & Collaborating with
myViewBoard Digital Whiteboarding Software
20-point touch for easy collaboration
Drag and drop images and videos effortlessly
Easily reorient and resize elements
Encourage sharing by enabling students to cast-in images, videos and other media from any device, from anywhere in class
Further engage by allowing students to remotely annotate and edit in real time
All with the ease of familiar annotation features enhanced by a super-smooth interface
Enhance engagement by seamlessly weaving digital content into lessons
Convert, edit and share existing content saved in .iwb, .notebook, .ppt and .pdf formats
Seamless interface with Google-based Classrooms
No licensing fees
Outstanding image quality with 4K resolution and bright, immersive images
---
The Movement-Collaboration Connection
We know from brain-based research that getting up and moving helps kids learn. The CDC cites research showing that integrating physical activity into the classroom benefits students by:
Improving their concentration and ability to stay on-task in the classroom
Reducing disruptive behavior in the classroom
Helping to improve academic performance (higher grades and test scores)
Increasing their amount of daily physical activity
and
Improving their motivation and engagement in the learning process
With today's interactive and collaborative technology solutions, students are no longer limited to sitting at their desks face-down in a device. Interactive displays are a great antidote to too much sitting. There are so many ways to leverage them to add both movement and collaboration into any curriculum.
Our district uses ViewSonic ViewBoard interactive displays with myViewBoard digital whiteboarding software. They come with loads of tools that integrate seamlessly with Google and make it easy for teachers to incorporate tasks that require movement. Drag and drop activities work well for just about any subject. For example, to enhance engagement around geography lessons, teachers can bring teams of students to the display to drag and drop states or countries onto map puzzles. For language arts we use dynamic flow charts to build out story paths. Categorization activities using digital Post It notes can be used with virtually any curriculum. To learn anatomy, students can drag and place labels of body parts and organs onto a diagram of a snake, frog or human.
I cannot overstate how much these collaborative activities positively impact learning. Take reptile anatomy, for example. Assign students to read a textbook chapter with an illustration identifying a snake's internal organs and what do they do? In my experience: flip on by with barely a look. Get them up at the display board with some classmates, actively labelling the parts themselves, and it's a whole different story. They're getting out of their seats, having fun, interacting with classmates and actively participating in the process of learning the material.
The ways in which educators can leverage interactive activities on their classroom display is virtually endless. Some other ways I use them include:
Creating interactive activities, quizzes and games on the free H5P website.
Using Quizlet to create interactive content.
Enhancing math learning with Desmos.com, which offers a great dynamic graphing calculator and other digital activities, plus the ability for teachers to create their own interactive assignments.
Integrating the interactive display into station rotations to extend its powers of engagement and get kids moving from station to station.
Connection and Collaboration Through Storytelling
Interactive displays are also a great tool to facilitate storytelling. Everyone has a story to tell and giving students a platform to tell their stories is a gift. Sharing our stories in the classroom builds connection and community. Building community lays the foundation for successful collaboration, which in turn increases student engagement. When students feel at home in the classroom it can help them feel more comfortable working with classmates and sharing work with their peers.
As a teacher, I believe that until you know your students and where they're coming from you can't fully teach them. I use our ViewSonic ViewBoard displays in every class to promote student sharing. With integrated content sharing and a built-in throw feature, these displays make it easy for students to send pictures up to the big screen: their family, their summer activities, their favorite places, people and things. Not to mention their homework and group projects. The possibilities are limitless.
---
Developing Future-Ready Skills
Traditional "one-to-many" teaching fails to foster the skills needed in today's workplaces.
The SCALE-UP approach is a student-centered model that's flipping classrooms and turning heads.
Documented benefits include:
Improved problem-solving skills
Enhanced communication skills
Better relationship-building abilities
Improved teamwork skills
Greater presentation capabilities
Increased understanding of concepts
Heightened responsibility for own learning
Increased engagement and motivation in class
Find out more about SCALE-UP classrooms and the tech that supports them in this whitepaper: Technology in the SCALE-UP Classroom: Supporting the Collaborative Learning Environment of the Future
---
Eye on the Prize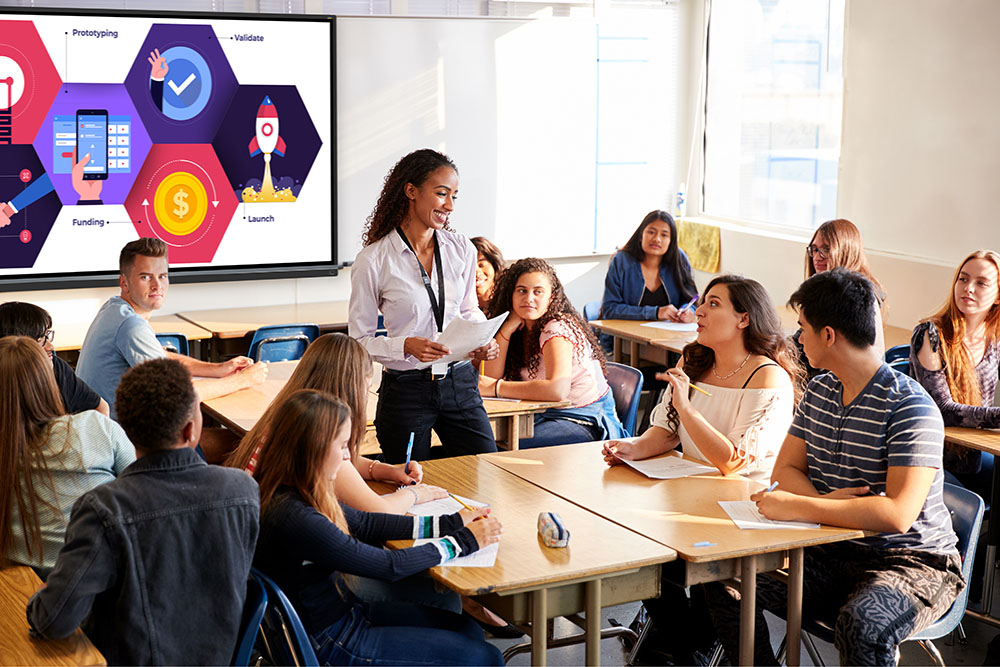 The ultimate goal of what we do as educators is to prepare our students to have productive, successful lives. As our world continues to change at a rapid pace, we must continue to evolve our teaching methods and tools to be able to meet this goal. The skills employers need are changing. The ability to read, write and do math are no longer sufficient. The jobs of tomorrow will require an unprecedented level of "soft skills," like problem solving, communicating well and working well with others. Collaboration helps build these skills, while boosting engagement for a deeper level of learning.
Interactive displays provide a great way to infuse classrooms with more movement, collaboration and engagement. For help in developing materials to use with your interactive classroom display, reach out to the community of Google certified trainers or check out a wealth of resources from Google.
About the author
A 15-year veteran of teaching mathematics, Lance Key began using the blended/flipped model in his classroom 9 years ago. His passion for teaching with technology lead Key to the role of Instructional Technology Specialist charged with developing his district's instructional technology, supervising high school online learning and serving as District Administrator for Google and Edgenuity. Key specializes in helping teachers incorporate technology into their classroom and is an Authorized ViewSonic Trainer. He was selected as the 2016 – 2017 VITAL Teacher of the Year. His certifications include: Google Certified Trainer, Google Certified Innovator, Edulastic Innovator, Nearpod Certified, CK-12 Certified Educator, Book Creator Ambassador, Read&Write Certified, and recognition as a Kami Hero. Lance has shared his wisdom at conferences including: ISTE, FETC, iNacol, DLAC, KySTE, NCTIES, ICE, METC, TETC, and TNLead.