Using Technology To Engage Students and Build Their Confidence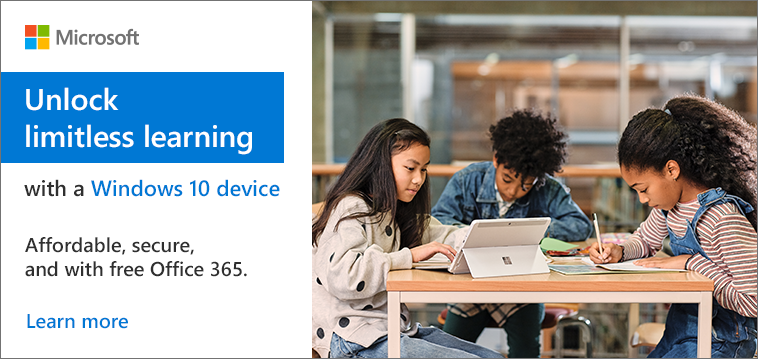 Originally posted February 2021
This post is sponsored by Microsoft Canada
By Kaylyn Dorland
The COVID-19 pandemic has forced changes upon all of us as teachers, especially when it comes to our use of technology – regardless of whether we are back in the classroom with students in the room or teaching virtually. There is a distinct balance with leveraging technology so that it enhances and complements the learning experience. But, as a natural extension of learning, it can easily be supportive, empowering, and engaging for both students and teachers.
I have had the pleasure of teaching some of this same group of students for a second time – first in grade three, and now in grade six. I have been fortunate to watch these children grow and have seen first-hand the innovative ways that technology has supported them and engaged them as learners. They see it as a fun activity, but it also serves as a powerful reminder that technology helps level the playing field for all our students.
Currently, our favourite tech tools in the classroom are Microsoft's OneNote and Teams as both allow students to collaborate and share their ideas. We also love Minecraft and Paint 3d, but a new fan favourite is Flipgrid and we're excited to use the Innovator's Kit to go along with our class set of Microbits.
When students feel confident and supported by the tools they're using, it changes the game for everybody. It allows teachers and students to personalize education with assistive tools and built-in accommodations that can help every student achieve success. It also adds an extra component to the lesson that encourages students to develop their learning skills. Eventually, students ask themselves "How can I be self-directed and how can I use this device to find what I need to support my learning?". We are letting students problem solve and engage themselves in ways that they never thought possible. They are now able to navigate through programs to help find their lessons and the resources they can use for digital assistance, like Immersive Reader, for example.
I recognize how lucky we are to have the technology that we do in our classroom. We are very grateful and very blessed. I can imagine that for teachers that do not have the same access to devices and the same opportunities to develop student skills using technology this can be a struggle and frustrating at times. My hope is that schools across Canada continue to see the crucial value and many benefits to using and investing in technology for all students, in every region. This year has definitely pulled back the curtain to inequities and imbalances within of our school systems, and at the end of the day, every student and every child deserves the same opportunities when it comes to their education.
When I walk around the classroom, my students make me so proud, because I know they are consistently making an effort to further their own goals and look for ways that they can be successful on their own – with, and without, technology. I know that learning these skills now, in the primary and junior divisions, will open many doors for them and teachers alike, and I am excited for what the future holds!
Kaylyn Dorland teaches at Queen of Heaven Catholic Elementary School in Milton, Ontario.
For more information on free learning tools available to all students and educators in Canada – visit, https://www.microsoft.com/en-ca/education/products/office