Summer Home and Classroom Essentials for Teachers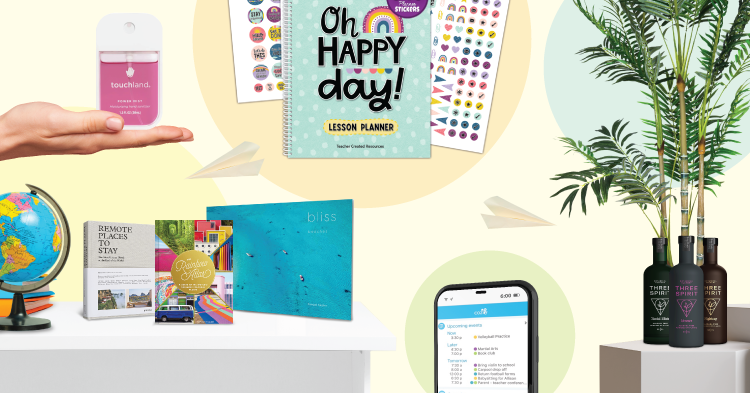 Originally published in TEACH Magazine, July/August 2021 Issue
School's out for the summer, and after such a challenging year, it's important to give yourself time to recharge. Here are a few items that can help you catch up on much-needed rest and relaxation, while also taking away some of the stress that comes with preparing for the fall. Check out these teacher must-haves for the summer of 2021.
Coffee Table Books
Even though in-person travelling might be restricted this summer, these beautiful volumes can help scratch that itch to explore by taking you on visual journeys to stunning locations. They also have the added benefit of making great display pieces.
Palm Plants
If you're looking to add a tropical, relaxed feel to your home or classroom, palm plants are a good place to start. These plants can be great for beginners because they don't require too much effort. Many are tolerant of low-light conditions, don't need to be watered too often, and are non-toxic to most pets.
Areca palm (Dypsis lutescens)
Kentia palm (Howea forsteriana)
Parlor palm (Chamaedorea elegans)
Hand Sanitizers
Show students you're up on your TikTok culture by sporting this new "next generation" hand sanitizer that went viral on the app. Touchland is a female-led brand that creates vegan and cruelty-free products. Currently they are dedicating 5% of their profits to providing sanitizing solutions for public schools in the U.S. Here are some other unique hand sanitizers to try: Sanikind and Evolved By Nature.
Organization Apps
With the arrival of summer vacation comes summer activities—for both you and the kids. Keep track of everyone's schedules with Cozi, the family organizer app. It also records chores, grocery lists, favourite recipes, and more! Other great apps to help you stay organized include Remember the Milk and Pocket.
Lesson Planners
The start of a new school year is always a bit hectic, but a good planner can be a lifesaver when it comes to managing the chaos. With different binding options, interior layouts, and plenty of fun covers, the customizable teacher lesson planners from Erin Condren are sure to meet your needs. For other good options, take a look at the planners from Teacher Created Resources and The Happy Planner.
Non-Alcoholic Drinks
Three Spirit Drinks focuses on promoting happier and healthier ways to socialize through their plant-based drinks, which are designed to stimulate the mind, body, and palate. Best of all, their products are 100% vegan, cruelty-free, and are delivered in zero-plastic recyclable packaging. For other alcohol-free options, check out Everything Dry and Seedlip.