How Educators Can Respond to Book Banning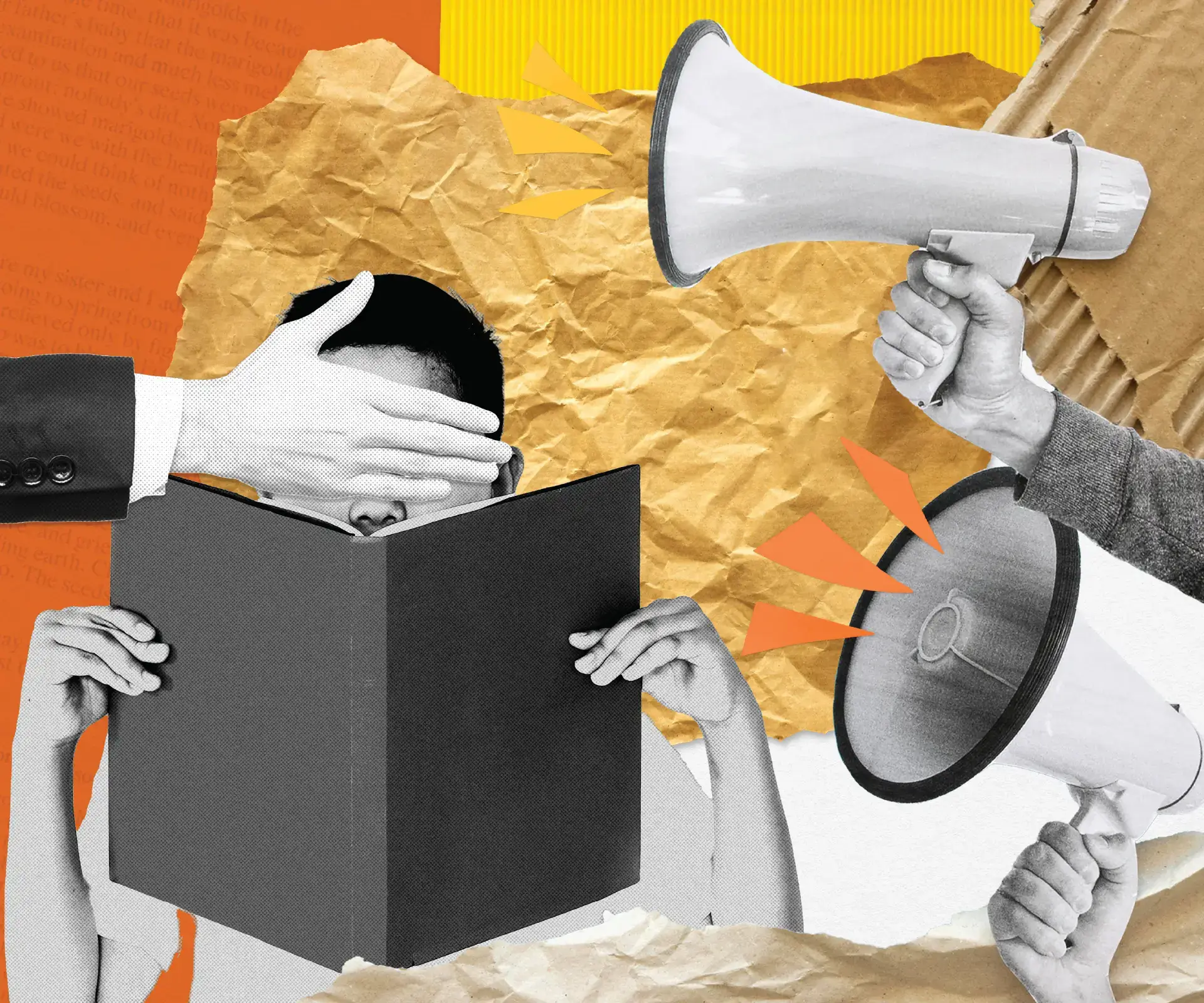 Originally published in TEACH Magazine, July/August 2022 Issue
By Adam Stone
The tide of intolerance is rising, and once again the reactionary camp wants to throw literature on the pyre, at least metaphorically.
As director of library services at Mercersburg Academy, a private high school in Pennsylvania, Alexandra Patterson worries about the long-term social impact of book banning. "Books can be a wonderful way to build empathy, and when we are cutting off access to voices from particular groups, we are creating larger divisions," she says.
In recent months, some parents and school boards have ramped up efforts to exclude certain titles from classrooms and library shelves. Many experts say that teachers, librarians, and others have a key role to play in what they describe as a critical time for education.
The Book Ban Landscape
"In the current environment, there is a movement to ban more and more books," says Bruce Hanson, an education wellness expert and founder of the test-prep site First Choice Admissions. "In 2020 the American Library Association tracked 156 attempts to remove books from school libraries and universities. In 2021 that number jumped to 729," Hanson notes.
It's part of a broader trend. The American Civil Liberties Union (ACLU) reports that in 2022, 33 states introduced over 100 bills to limit discussion of race and gender in the classroom. "These attacks come at a time when various groups—including state lawmakers and local school board officials—are simultaneously pushing to ban books from school and public libraries," the ACLU notes.
"In the fall of 2021 alone, the American Library Association received more than 330 book challenges, doubling the 156 challenges it received in 2020," the ACLU reports. Some of the most frequently targeted books tackle issues around race, gender, and sexual identity, including Jonathan Evison's Lawn Boy, Maia Kobabe's Gender Queer, George M. Johnson's All Boys Aren't Blue, and Toni Morrison's The Bluest Eye.
"These book challenges are focusing on and attacking students' access to books that are by and about BIPOC [Black, Indigenous, and People of Colour], LGBTQ people, and other marginalized groups," the ACLU says.
Why Educators Are Concerned
Teachers and other education professionals cite a wide variety of reasons to be worried about the trend toward suppressing books in schools. By limiting the books that students can read, some suggest, we limit their choices in life.
"Teachers and parents have the same fundamental job: to prepare our kids for this world by equipping them with tools for professional and personal success," says Amina Akram, founder and CEO of the membership-based monthly book club Ouraan.
"Book banning is driven by our innate instinct to protect and shelter our children—but we cannot both keep them in a bubble and successfully do our jobs," Akram says. "Instead of protecting our children through book bans, we end up raising a generation of young adults [who are] inflexible when navigating new situations, lack empathy, and [are] ill-equipped to deal with the realities of the world."
Others say book bans make it impossible for education professionals to fulfill some of their key responsibilities.
"We live in a time of information overload. A few clicks can get you more information on a topic than you could ever read. Part of a library's job is to provide information about how to navigate resources and choose the ones that are best for a given situation," Patterson says. "When books are banned, we are cutting off opportunities to look at all of the potential ideas."
Limiting students' access to certain books "really closes their worlds off in very unhealthy ways," says Miah Daughtery, literacy director at the research-based not-for-profit NWEA (formerly the Northwest Evaluation Association), which supports students and educators worldwide.
"Access to diverse texts is important for students and for society," Daughtery adds. Broad reading "builds empathy and allows students to see situations through the eyes of people who are different from them. It is also deeply affirming for students to be able to see characters who are like them."
All of this has profound implications for educators who may find themselves struggling to cope in an increasingly hostile landscape.
"Teachers and librarians are undeniably being impacted by this climate," says Jonathan Friedman, director of free expression and education at PEN America, and author of the "Banned in the USA" report.
"Book bans pit teachers and parents against each other, and parents against other parents," he explains. "They hand the angriest, most intolerant parents or citizens control over what all children can read in school."
But teachers are not powerless here. Experts say there are steps they can take to resist the trend toward classroom censorship and continue to teach effectively.
What Educators Can Do
Openly defying a book ban "is not only career suicide but it's unlikely to make a meaningful change. But there are alternatives to push back," says Bruce Hanson. Teachers can, for instance, take up political action against elected officials who push for book bans. "Unlike a parent, a public official can be voted out of office or succumb to political pressure to change their view."
Political organizing and lobbying "may be the best recourse a teacher has to change the current momentum of book banning and create a longer-term political environment that is more tolerant," Hanson says. "And while that might not be a quick fight, over time, sustained political pressure can produce enduring positive results."
Others suggest that teachers can work directly with concerned parents to preempt efforts to ban books. For example, Amina Akram's book club sends members a parental guide with each book to inform them about "sensitive themes and topics" and to give them "conversational tools for navigating those themes in age-appropriate, parent-led ways," she explains.
"There is plenty of middle-ground between banning books and exposing our children to inappropriate content," Akram says. "In districts where book banning is happening, educators and families alike could look to pair with organizations that curate age- and developmentally-appropriate books that provide thematically deep themes and educational value."
Teachers can also "push back against book banning" by becoming become a part of the wider dialog, Daughtery adds. They should "work in community with each other and the broader community to decide what is important and worth fighting for. Pushing back could look like partnering with the American Library Association, writing their elected officials, or weighing in on their district's policies on text selection."
Daughtery advocates more direct action to keep books accessible in communities where bans are taking a toll. Educators can pool together books or create lists of texts, for example, in order to expand young readers' options.
Teachers should also be "building relationships with students' families and hosting discussions," she says. For example, after students have finished reading a challenged book, they can write testimonials that describe what they learned and why they think others should read the text, Daughtery explains.
Another option teachers can consider is allying themselves with larger organizations fighting to resist book bans. The ACLU for example has been active in this arena. It challenged a school board in Tennessee that voted to ban Maus, a Pulitzer Prize-winning graphic novel about the Holocaust, from its eighth-grade curriculum. The group also filed a lawsuit in Missouri, after which the school board voted to return The Bluest Eye to library shelves.
School librarians can play a role too, by ensuring their "book challenge" policies are up to date and publicly posted. And they can use those policies as a means to push back.
"Often, folks challenge books based on excerpts without having read the entire text," Alexandra Patterson says. "Librarians might want to have a section on the challenge form that asks which pages are objectionable and if the challenger has read the whole text."
Educators can also assist students with finding their voices in this conversation and advocating on their own behalf. The American Federation of Teachers has lesson plans available that help students learn about historical and present-day book banning practices, examine why books are challenged, and explore ideas for challenging book bans in return.
At PEN America, Friedman offers a number of other practical strategies. Teachers can:
Familiarize themselves with their schools' policies and procedures for curriculum and media challenges, and ask parents to follow the process.
Support administrators in adopting best practice guidelines for challenges to curriculum and library materials.
Advocate for students' rights to read in school libraries, and help the community to understand how open access to diverse literature is a part of promoting literacy among young people.
Keep a folder of book reviews for the titles in the classroom library, in case it becomes necessary to defend the decision to include a particular book.
"When bans are being encouraged in districts, teachers should use what influence they have to support their students, and speak to the importance of access to diverse literature and to supporting diverse learners in schools," Friedman says.
State and local lawmakers "are doubling down on their crusade against a complete, accurate, and inclusive education," the ACLU warns. The group urges teachers, students, and parents "to support the fight against these classroom censorship attacks and book challenges. The battle is far from over."
---
Adam Stone is a seasoned journalist with 20+ years' experience. He covers education, technology, government and the military, along with diverse other topics.