Creating a Paperless Classroom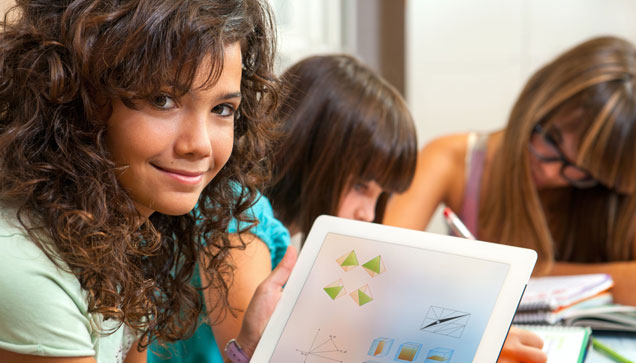 By Antonina Kumka
The question of technology in the classroom has been looked at for many years from various perspectives. It seems that everyone agrees that the use of technology becomes inevitable. In fact, the use of technology is becoming more and more necessary.
I have always embraced technology using digital projectors, Smart Boards, and course websites as part of my instructional tools. And like many of my students, I too use digital devices in my daily personal life, but the enormous piles of notes and paper combined with the constant fighting with the students to put their gadgets away drove me to reevaluate how I could use those very gadgets to my advantage. How could I also reduce the amount of notes I am printing on a day-to-day basis? How could I encourage my students to be more interested, independent, and responsible?
I currently teach a large Grade 12 Advanced Functions class—33 students, a full house. Every student has some type of electronic device that connects to the Internet. On the first of classes, beginning this past September, I informed my students that we were going to work towards "Paperless Classroom" and they were encouraged to use their own technology. The students were excited, but very apprehensive at first. They had never been told, "Use your smartphone to take a picture of the solution you wrote on the whiteboard and then save it in your files." They all looked at me like I was an alien from another planet. All they had ever heard up until then was the complete opposite, to put their phones away in class.
We do no use any paper in my class. Students complete equations, homework, or tests on their individual whiteboards with erasable markers. They also love solving TIPS questions on whiteboards because they can think, write and erase, and write again. And if they want to save their solutions, they simply take a picture with their devices. At the same time, lessons, questions, and solutions are written on the SmartBoard and later posted on the course website for students to download and study. To improve communication skills, I often provide students with some terminology and instruct them to explain the terms in a text message so concisely that the recipient—another student in the class—is able to identify the term.
For me, the challenge was to make Grade 12 Math more student-oriented, more fun, not so traditional, and to engage students in independent learning. Technology has certainly helped me achieve that. The students do not rely on my explanation as much for they have a handout in front of them. They can also work in groups (not having to stare at the teacher the whole time). My students can work independently and I am there to meet their individual needs, observing and communicating, and being part of the class, not just someone with an ultimate knowledge of everything. Our class also has a Facebook group that students use regularly for discussions and questions, as well as a D2L (Desire2Learn) page for online practice questions. Technology, Internet, and social media have become a greater part of education, not just entertainment. The process of assessment and evaluation has changed too. The students write on their individual whiteboards to complete quizzes, snap pictures of their responses, and e-mail them to me. Again, no paper is handed out and I can enter any feedback on my computer and e-mail them back to students, which also minimizes the chances of students loosing their marked work.
Working with the students who are university bound, I did not face issues with implementation nor abuse of the technology. I would however, be not as bold to introduce technology-based learning so widely for other subjects, unless there was abundant teacher supervision. On the other hand, this would also be a great opportunity to teach students how to not abuse the use of technology, but rather use it positively to improve their learning skills.
"What if some students do not have Internet access at home?" I am often asked. In that case, I would speak to the students privately, as to not single them out amongst their iPad and tablet-owning peers, and simply print out handouts specifically for those students who would pick them up outside of class to keep their special circumstances anonymous. During class time however, all of the notes were still posted on the SmartBoard.
There are many varied ways to use technology in the classroom, and there are also inevitable challenges that come with it. However, it is worth a try. Students today cannot imagine their lives without technology and will be looking for ways to use it, so why not guide them in the direction, where technology can be used pragmatically, in ways that will help them succeed now and in the future.
Antonina Kumka teaches Grade 9-12 Math at White Oaks High School in Oakville, Ontario. She regularly and eagerly attends PD activities and conferences, as well as works collaboratively with colleagues towards teaching innovations.