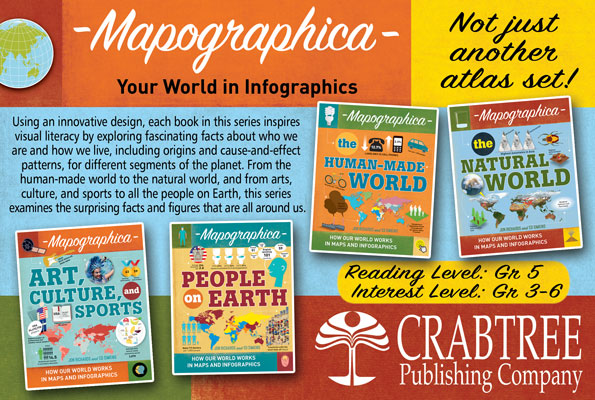 This post is sponsored by Crabtree Publishing
Mapographica Series (set of 4 titles)
This is not your ordinary atlas set! Mapographica uses maps, infographics, and colour images to present the world as it has never been seen before. Each of the four books in this series is a visual expedition, exploring fascinating facts about different segments of the planet. From the human-made world to the natural world, and from arts, culture, and sports to all the people on Earth, this series examines the surprising facts and figures that are all around us.
The Mapographica series aids readers in comparing and contrasting the same subjects in different parts of the world. This series is a must-have resource for any classroom or library.
Key Features:
Supports Social Studies curriculum ~ History, Geography, Economics-related standards
The highly innovative design and compelling, original content presents concepts and related data in a highly effective and engaging manner
Well-crafted infographics support visual and data literacy skills
Reading Level: Grade 5 | Interest Level: Grades 3-6
Full Colour | 32 pages | 8 x 10"
Available in Reinforced Library Binding, Paperback and ebook formats. For more information, please visit Crabtree Publishing.