Celebrating Canada's Outstanding Principals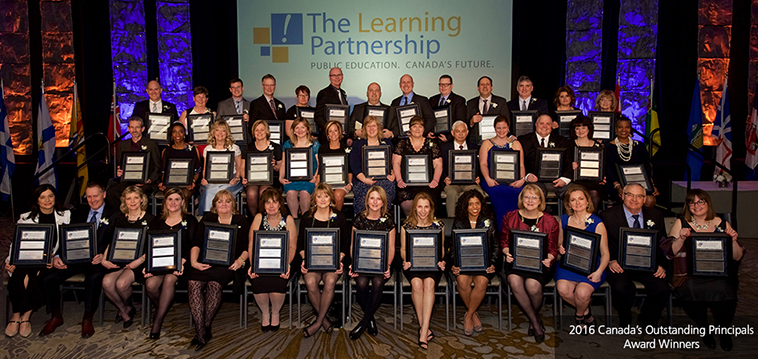 This post is sponsored by The Learning Partnership
As educators, leaders and enablers, principals are essential to the success of a school. Recently, the role of the principal has evolved considerably from school administrator to one with increased responsibilities for student academic achievement. The complexities of school management now involve greater student, parental, school board, and government demands, as well as increased collaboration.
As principals face greater demands and shifting priorities, they need to be recognized for their outstanding work and leadership in building a successful school environment.
This year, The Learning Partnership is pleased to recognize 40 outstanding principals across Canada for their dedication within their schools and communities, as part of the Canada's Outstanding Principals program.
Now celebrating its 13th year by The Learning Partnership, in partnership with the Rotman School of Management at the University of Toronto, Canada's Outstanding Principals serves principals as the only nationally recognized award and executive leadership training program in Canada. The program aims to strengthen Canada's education system by developing its leaders in publicly funded schools. The award honours principals who demonstrate innovation and entrepreneurial spirit, and who have done something truly remarkable in public education.
The 2017 Canada's Outstanding Principals will be awarded for their accomplishments at the annual Canada's Outstanding Principals gala on February 28, 2017 at the Sheraton Centre Toronto Hotel in Ontario.
The winners also benefit from an exclusive five-day executive leadership training program at one of Canada's top business schools, the University of Toronto's Rotman School of Management. The program will introduce them to leadership and management practices presented by business, government and education leaders as well as Rotman instructors.
The 2017 Canada's Outstanding Principals will join the prestigious ranks of the National Academy of Canada's Outstanding Principals, which now boasts over 400 members. The National Academy offers principals ongoing networking, mentoring and professional development opportunities so they can constantly enhance their leadership skills.
Canada's Outstanding Principals is made possible through the generous support of CIBC and Deloitte.
For a full list of the 2017 Canada's Outstanding Principals award recipients, please visit The Learning Partnership's website.