Is Your Classroom in Need of a Digital Refresh?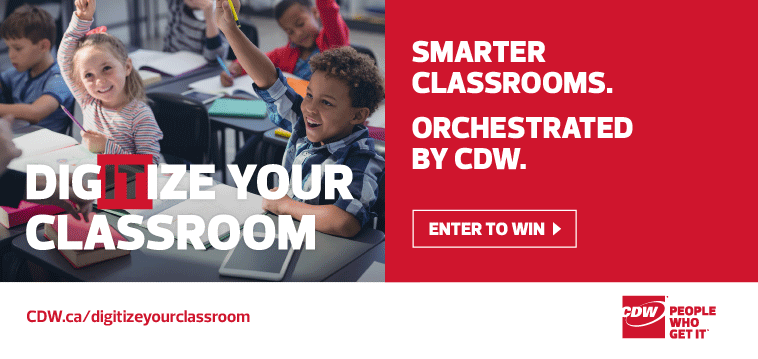 This post is sponsored by CDW Canada 
For the past three years, CDW and its partners have been proud to offer one lucky classroom a $10,000 tech upgrade through the Digitize Your Classroom contest. Digital transformation is key in the education industry, as schools move from computer labs with legacy desktops to a wireless, always connected, sometimes even BYOD environment. Let's look at some of the ways digital transformation is taking place in the classroom.
Learn, engage and collaborate with new technology tools
The new generation of immersive learning devices can provide hands-on learning, promote collaboration and spark creativity among students. These all-in-one learning tools combine features like HD cameras, touch displays, 3D scanning/printing and a pen or stylus for realistic writing and drawing.
How a conference camera can connect classrooms
The latest conference cameras combine speakers, a microphone and a camera in the same piece of hardware, making videoconferencing as easy as A-B-C. With the latest videoconferencing tools, lessons aren't limited to the physical classroom space. Students can go on a "virtual field trip" or receive lectures from speakers located anywhere in the world.
The latest software on the latest devices
Legacy equipment could be running outdated programs and applications, which may not be supported with security updates. By supplying a classroom with a full set of laptops using the latest operating system, CDW can help ensure that all your technology is up to date.
Securing your learning environment
With technology at every student's fingertips, they have lots of opportunity to explore – but it's important to set limits. From a school's standpoint, blocking or limiting access to certain websites, while enforcing safe search policies, can help students be more productive while preventing threats to the network from malicious websites.
Digitize Your Classroom with CDW
For 2018, CDW is offering one lucky classroom a $10,000 digital refresh with technology solutions from HP, Microsoft, SonicWall and Logitech. Here's how you can help prepare your students for their future with devices that are more secure, collaborative and cloud-ready:
Previous winners
YMCA Academy used its new lightweight laptops to help make learning borderless. Read more
Bnei Akiva Schools' stylus-compatible devices made virtual teaching more natural for math and science lessons.