Carbon Neutral: Messages of Hope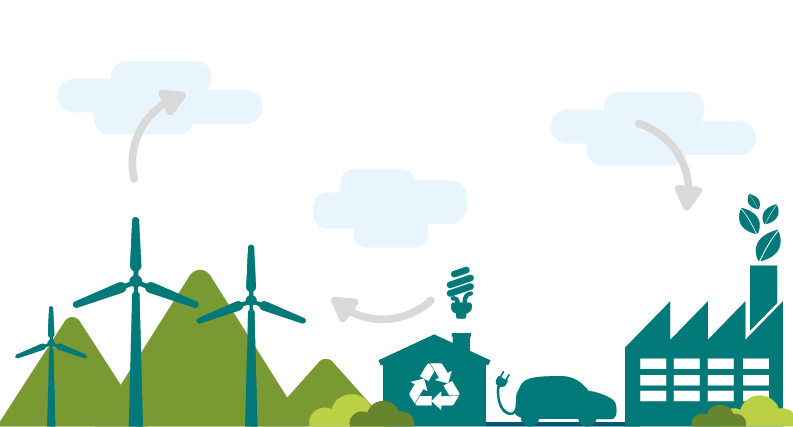 Originally published in TEACH Magazine, May/June 2020 Issue
By Adam Stone
At Berkwood Hedge School in Berkeley, CA, Grade 1 teacher Natalie Crowley recently led her kids through a three-day "teach in" on the topic of climate change. There was an all-school assembly. Speakers talked about recycling. Then the kids did projects: Calculate your carbon footprint. Learn how to make a solar lantern.
"They learn best through activity and experience," Crowley says. "There is so much fear and anxiety around climate change; [a] sense of disaster. It's really important to empower kids with tools, to remind them that all is not lost and that they can do things that make a difference."
That's K–12 climate change in a nutshell. At a time when it would be easy to scare them silly, educators need to empower kids instead. They need to foster in young learners not just an understanding of the science behind climate change, but also a feeling that they themselves can make a difference. Kids need to know that change is possible.
Practicality and Hope
For K–12 teachers looking to incorporate crucial information on climate change, a positive attitude is the first order of business.
"We're trying to give them a message of practicality and hope, based on facts and science," says Jenny Wiedower, Senior Manager, K12 Education at the U.S. Green Building Council. "We want to help them develop skills and ways of thinking that can contribute to combating climate change and to developing a more sustainable future."
At the National Wildlife Federation, Director K–12 Education Elizabeth Soper talks about "climate resilience," which is the notion that environmental changes have wide-ranging social and economic impacts. She too grounds her approach in the notion of kids' agency, their ability to make meaningful changes in their own world.
"A climate resilient student is someone who knows about all the issues—both the environmental and the social-economic—so that they can make good decisions in their own individual lives and in their communities," she says.
The song is much the same at the Green Schools Alliance, where Acting Executive Director Arlae Castellanos encourages K–12 teachers to look beyond the predictions of calamity that tend to dominate media discussions around climate change.
"Doom-and-gloom is a very antiquated way of thinking," she says. "When you are talking to young students, you need to be talking about the positives, the things they can do to be a better person in society. It's bigger than just talking about climate. It's about what you can do to be a responsible person overall. That's the way to frame it."
These experts, all of whom stand at the intersection of education and climate change, agree on the basic messaging. They want kids to live their best lives, to feel empowered to act, and to view climate change not as an existential threat but rather as an opportunity to change their world.
How does that look in practice? Educators say the key lies in keeping things practical. By getting kids engaged and involved, even on a small scale, teachers can reinforce the notion that young people are not powerless.
In the Classroom
Marissa Syracusa teaches Grade 3 at Seminole Science Charter School in Lake Mary, FL, where teachers and students together have implemented the beginnings of a waste-reduction solution. "We created this program after noticing the huge amount of potentially recyclable items being thrown in the trash," she says.
From this simple observation came a comprehensive recycling program. "Each classroom has their own recycling receptacle—a used cardboard box they decorated as a group, which is emptied every Monday," she says. "Every classroom also does its best to repurpose paper. If there's writing on one side of it, we save it for scrap paper instead of throwing it away. This is perfect for things like brainstorms, art projects, and note taking."
She has also developed a "recycling relay race" where students learn through conversation and interaction about the various recyclable materials. "After discussing what should be recycled and the different types of materials, students had to race to put the items in the correct bin," she says. "These students were energetic and excited racing to recycle, but they were also learning a valuable lesson about how to effectively clean, sort, and dispose of their recyclables."
At Escanaba Junior/Senior High School in Michigan, Assistant Principal Jessica Garber recently introduced a program that helps to engage kids with climate change over a topic they can readily relate to—candy.
Experts say Americans purchase nearly 600 million pounds of candy for Halloween each year. Last fall the Escanaba schools signed onto the "Trick or Trash" project offered by recycling company Rubicon, gathering many hundreds of discarded candy wrappers as an object lesson in the possibility of change.
"We had just started an environmental club and this was our project. I liked it because it was easy. We signed up and they sent us a box and then we promoted it throughout the school," Garber says.
Following the school's involvement in a regional youth symposium that focused on climate change, the candy-based effort seemed like a good way to put the students' emerging awareness into action. "They hear so many negative things about the way our world is treated, things they don't have any control over," Garber says. "We want to show them how small things they can do can make a difference."
In the same way that candy offers a familiar and friendly way to talk about climate change, other experts say that when talking to K–12 students, it makes sense to start close to home and what could be closer than their own schoolhouse?
"Students are already learning in buildings, and so the building itself becomes an incredible opportunity to pair learning with action," Wiedower says. "We see classes conducting energy audits to understand how the building uses energy and working with building staff to identify areas where they can implement change— even if it's just turning out the lights or unplugging unnecessary appliances."
The school building offers a range of ways in which students can discover and measure for themselves the realities behind what they have learned in the abstract: How many kilowatt hours of power? How many bins of trash?
"You can use your own school as a teaching tool," Wiedower says. "That's pretty incredible, for students to have that kind of role in the place where they are actually doing the learning."
Crowley went a step further, literally sending the lesson home. She followed up on her school's climate change teach-in with a challenge for students and parents to document their environmental efforts around the house. "The expectation is that every family will do at least one thing on the list, and they will submit a photograph to document that, to go in a shared Google album," she says.
She doesn't want to confine the lessons of climate change to the classroom, but rather to make them an integrated part of students' lives. "The reality of this situation is that this is something that is ongoing, something that is only going to become more important," she says.
Teaching the Science
Of course, K–12 also needs to teach the science around climate change. The key here, experts say, is to keep those lessons age-appropriate.
An instructional specialist at Washington University's Institute for School Partnership, Lauren Ashman develops science programming for St. Louis area schools. Middle schools may chart the blooming times of plants to measure the effects of a warming climate, while high schools delve deeply into data from the Intergovernmental Panel on Climate Change.
"At the elementary level they focus more on human impacts in general, how human activities impact the environment in different ways," she says.
This in turn led kids from one local elementary school to successfully petition their school board to ban plastic straws in the cafeteria—leading us back to that notion of positive empowerment. "We focus on the fact that even as young people, they still have the ability to become involved in developing solutions," Ashman says.
Tools and Resources
There is a range of resources available for teachers looking to incorporate climate change into their K–12 lesson plans.
The Rainforest Alliance offers 15 ways to teach green. ("Keep a few plants on your classroom windowsills to improve air quality.") The non-profit group Popular Education has a similar list.
The U.S. Green Building Council's Learning Lab offers a K–12 curriculum that encourages student leadership, sustainability literacy and real-world action. Climate Change Live offers detailed lesson plans by grade, while the National Education Association has an extensive list of resources available. To make the commitment to climate change practical and tangible, Hampton Roads area teachers can pledge online to take specific steps toward having a greener classroom.
With all these various tools in play, a simple rule of thumb applies: The more hands-on, the better.
"Kids can take on authentic issues in their school or their community," Soper says. "When they collect data and take action, they learn a heck of a lot more than when they are just reading it in a textbook or watching a video."
---
A seasoned journalist with 20+ years' experience, Adam Stone covers education, technology, government and the military, along with diverse other topics.