Shaking up Shakespeare: Digital Tools for Digital Students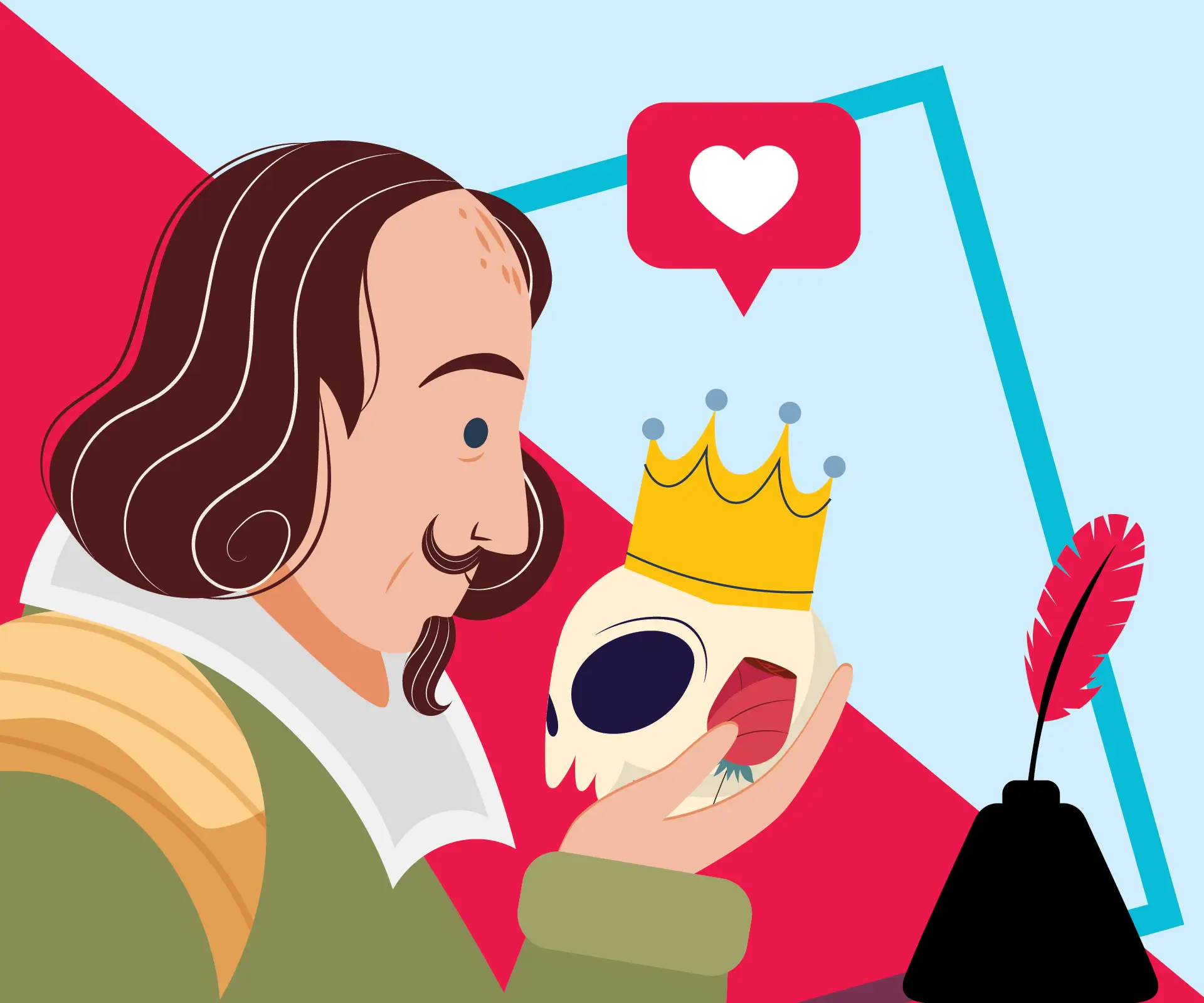 Originally published in TEACH Magazine, July/August 2022 Issue
By Deanna Ratzki
Unless you have an affinity for Shakespeare, there's a good chance that you wouldn't consider studying the Bard a highlight of your education. In the intermediate and senior classroom, there are always students who groan at even the mention of his name. Many of them dread reading Shakespeare out of fear of not understanding the words, or because they think his works have nothing to do with their 21st century interests.
It's easy to perpetuate such beliefs if you, too, dreaded studying this subject as a student, like I did, and now also dread teaching it. In both high school and university I avoided Shakespeare's works like the plague! Fortunately, in my case all it took was one BEd instructor who made it her goal to change my mind, and all of a sudden Shakespeare was transformed for me.
While pursuing my BEd, the Program Director, Stephanie Thompson, challenged my perceptions of Shakespeare, and ended up converting myself and fellow skeptical teacher candidates into some of the most effective teachers of his content.
In a two-part lesson dubbed "Shaking up Shakespeare," Professor Thompson provided the class with a myriad of resources to genuinely engage today's students with yesterday's plays. Professor Thompson even inspired me to create my own assignments that blend current social media trends with inquiry-based learning, allowing students to explore Shakespeare's relevance and enjoy themselves while doing so.
Below you'll find examples of these assignments, along with some digital tools I've used in my own classroom to approach Shakespeare in a contemporary and Gen-Z-friendly manner.
Digital Tasks for Digital Age Students
Professor Thompson placed a great emphasis on having fun—yes, fun!—while teaching Shakespeare. She suggested that an effective way to gauge student understanding of his poetry is for kids to try out Shakespearean insults. Show them a few of these examples, and then have students use the generator at the bottom of the page to invent some insults of their own. In my experience, students have loved getting the chance to make an insult and not get in trouble for it.
Another way to assess student understanding could be to have kids create a rap about an area of Shakespeare's work that interests them. Students can perform their rap live, create a recording, or make an animated version with text-to-speech features. Pressed for time? Instead, have students analyze an existing rap like this one and try to identify as many references to the text as possible.
One assignment that really helped me connect to the humorous side of my students was asking them to create memes. I tasked my students with finding one aspect of the text that resonated with them and then creating an original meme about it. I opted to also assign a written reflection so that students could reference the example from the text and analyze the connection to their meme.
My TikTok/Reels-Inspired Assignment
One of my core goals in teaching is to always strive to make my content relevant and meaningful for my students. Over this past year, I realized that TikTok and Instagram Reels have become so ubiquitous in my students' lives that it would be a waste to not allow them to use their content creation skills for educational purposes.
So I came up with an assignment that asked them to develop an argument, like a thesis in a typical essay, but in a short video format instead. Students were to begin by gathering as much evidence as possible that would support their argument. The evidence could range from quotes to details in the text, as well as comparisons to other representations of the text (i.e. films, graphic novels, songs, etc.)
Once they had formed their "thesis" and curated the supporting evidence, I asked my students to select their three best pieces of evidence and turn them into a script. I explained that a script is essential for creating any video because it will serve as a roadmap on how to translate their ideas into convincing visual content. During this time, I also implemented peer-review and teacher conference periods where students could receive feedback on their progress to ensure they were on the right track.
After the scripts were completed, students moved on to the actual video creation. I allowed my students choice in whether to use TikTok, Instagram Reels, or any other video editor they felt comfortable with. Ideally, the editor needed to be capable of adding voiceover, images, video, text, and a green screen if possible.
As inspiration for their videos, I showed my students appropriate "conspiracy theory" TikToks, as the goal of the assignment was similar to the intent of conspiracy creators: to convince viewers that something is true!
From here, students had complete creative freedom over how to make their videos. They could choose whether to appear on camera or not, and whether they would speak or use text-to-speech software instead. The flexibility in options allowed for greater accessibility.
The Results
One of the positive things about teaching in the "Digital Age" is that students continually amaze me with innovative ideas. Compared to the usual dull essay assignment, my students really took this task to heart and created some amazing content.
One student made a video about the role of women in Hamlet. The video looked at how the actions of male characters led to the downfalls of otherwise innocent female characters. The student used screen grabs from the Kenneth Branagh film version of Hamlet to better illustrate their evidence.
Another student decided to frame their video around the connection between Gavin DeGraw's 2003 hit song "I Don't Want to Be" and the character of Hamlet. The video offered a close reading of two verses, with the lines linked to several moments in the play. The student used clips from DeGraw's music video to create parallels between early-2000s relationships and the relationship between Hamlet and Ophelia.
Students worked extremely hard on making their videos. Finally, they were able to apply their outside interests directly to their everyday learning and were exceptionally proud of their work. Allowing students to share the videos with their peers was an added bonus, as it gave them a chance to explain the creative process, while also demonstrating understanding and analysis of Shakespeare's work.
Based on the tremendous success of my assignment, I now firmly believe that implementing digital tools when teaching Shakespeare and other subjects should be considered a new standard. Using platforms that are relevant to students' lives will not only excite them about learning, but will allow them to connect with the material in meaningful ways.
---
Deanna Ratzki has an honours degree from Toronto Metropolitan University. She is is expected to graduate this year from the University of Ontario Institute of Technology and receive her BEd.