Why Don't Teens Care About Politics?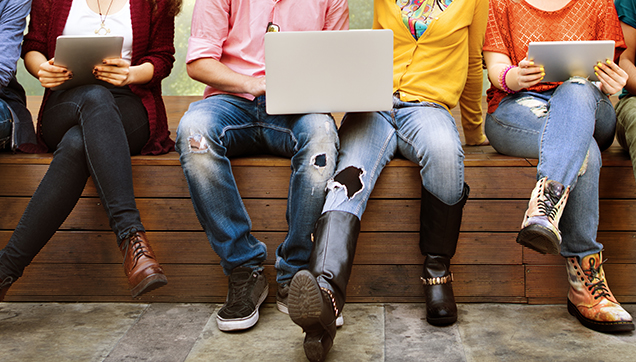 Originally published in TEACH Magazine, September/October 2015 Issue
By Martha Beach
We've all heard the moans and groans about youth who don't care about their society, teenagers who can't tell you how the political system works, and citizens who don't bother to vote. Some of those complaints ring true. The 2008 federal election saw the lowest voter turnout in the history of our country at 58.8 percent. The 2011 federal election saw a slight improvement at 61.1 percent. But voter turnout just skims the surface of a deep community issue: civic engagement.
Civic engagement keeps the wheels of society oiled and running smoothly. Educating youth about civic duties, rights and responsibilities is the only way to be sure they become engaged adults. But feeding them information won't get the job done.
"If we want kids to vote, to be engaged, we need to address them directly, hear their concerns, give them a reason to be engaged. This means honest, direct, adult-like conversations, not high speed 'kid' conversations," says Stephen Young, high school teacher and founder of Ontario's Civics Education Network (CEN). Students want to see results, affect change, and deal with issues that they know of. "So focus, teach, and work locally. Transit, schools, the city, garbage, policing. These are all local issues of deep interest to kids," he adds.
Another method of reaching kids is having open discussions about addressing the problems they find most concerning, says Josh Fullan, founder and director of Maximum City, primarily a summer program for youth to study civic planning and urbanism.
Pick a current civic issue that is important to kids, like garbage disposal, gay rights, or curriculum issues. "It's about raising questions and engaging them to see what the answer might be," says Alan M. Sears, a social studies and educational research professor at the University of New Brunswick. And it's not always about agreeing with one another. "As citizens we wrestle with complicated topics and sometimes we feel differently. So rather than eliminating disagreement, they need to learn how to engage with those who disagree," Sears says.
Maximum City uses the same tactic. "The skills we want to teach will only be learned by having them tackle a messy problem," Fullan says. Students collaborate on real-world problems, like transit in southern Ontario, and are encouraged to voice respectful disagreement.
The hard part is following curriculum all the while holding their attention and encouraging discussion. "We know that the political system is boring, but we also know that it's really important," says Sharon Cook, professor of education at the University of Ottawa. Cook suggests we grab them on a public policy issue that is important to youth, then slip in information about how to create change within the system, and how they can lend their voice and ask for change. We have to help them see their part in the system.
There is no significant national conversation about civic education. Sears points out that provinces are "living in a parallel universe. Education groups are doing the same work side by side." Young adds, "The education system needs to take political education seriously." In Ontario, there is a mandatory careers and civics education course in Grade 10. "But we continue to waste the opportunity," he says.
Chloe Simms, a second-year environmental sciences student at Waterloo University in Ontario and recipient of the Schulich Leadership Scholarship, agrees that the program doesn't quite hit the mark. "We didn't learn about the issues that were relevant at the time, and we didn't learn enough about each party," she says of her high-school civics course. "My generation doesn't know enough about politics to participate, so the easiest thing to do is nothing."
"We treat this course like a pointless annoyance. Schools routinely put unqualified teachers into the class. Many teachers have zero interest in teaching this and do a poor job," says Young. Sears agrees, "People without the right academic background are teaching these courses," he says. And as a result, many students see civics class as a chance to finish a book report for English class or complete their biology homework.
The way we teach the subject is problematic, but it has improved in the last 20 years. "The school system continues to refashion itself to deal with this," says Cook. As a recent example, Quebec had a major overhaul in social studies program to focus less on information and more on discussion. "Curriculum is really a mixed bag," says Miriam Lapp, assistant director of outreach and stakeholder engagement with Elections Canada. "Making the topic mandatory isn't necessarily the answer. On one hand, it ensures you're reaching people up to age 16. On the other hand, they're not all engaged or interested," Lapp says. "The more important issue is whether it is taught in an interesting and engaging manner."
Of course students also need a basic knowledge of what the government does and who the players are. But that is just a small portion of civic education. "The best civic education is experiential, getting involved in a local cause," says Lapp. Teach the mechanics of politics, but don't focus on them. Instead, use the city as a classroom, says Fullan. He points out that the vast majority of Canadians live in urban areas. "We need to engage people in meaningful and authentic ways to be stewards in an urban world," Fullan says.
Are these students ready to be stewards at the age of 12, 14, or 16? So far, the experts agree that drastic measures, such as changing the voting age, won't make a big difference in terms of civic engagement. "It's hypothetical at this point. There are multiple factors that go into deciding whether people will vote. Any single institutional change may or may not have the effect you want. Democratic engagement involves voting, but that's not all there is to it," Lapp says. Cook agrees. "Generally speaking, the younger the student, the less equipped they are," she says.
But among young people who are newly of voting age, there is definitely a "subset" that are politically involved, particularly on university campus, says Sarah Kahn, fourth-year biochemistry student at University of Victoria in British Columbia and also a recipient of the Schulich Leadership Scholarship. "Educators need to stress the importance of youth participation in politics in order to interest them in topics of civic life," Kahn says. Jivetesh Chhatwal immigrated to Canada from India in 2010 at the age of 15. Now a Schulich leader and in his fourth-year biochemistry at Memorial University in Newfoundland, Chhatwal says that most of the current young voting generation is "heavily involved," especially when it comes to social justice. "But I also encounter in some youth a sense of disillusionment," Chhatwal says. "Every person, young or old will acknowledge being affected by the world around them. The questions really are—if they feel motivated enough to take action and will their actions lead to some improvement?"
For now, the important thing to do is focus on discussion of local, community issues that interest and affect students. "We want better citizens who are responsive to and responsible for what is happening around them. We want them to be better stewards," says Fullan. A well-educated student will one day be a well-educated voter and a valuable, contributing member of society. The goal is not to create a future politician, but simply a well-rounded, engaged adult.
Resources for Teaching Civics
Elections Canada has many resources and a couple programs available. For the younger set, Choosing our Mascot introduces the voting experience. During election period, Student Vote is a parallel election in which older students vote for real candidates. After the election, they can compare how they voted with the riding. Miriam Lapp, assistant director of outreach and stakeholder engagement with Elections Canada, notes that student results tend to mirror adult results. "The parallel vote also has positive effects on teachers and parents: they get more involved and more interested. There is spillover into the broader community," notes Lapp. Outside of election period other classroom resources are available online, such as Canada at the Polls (an election simulation) or Voting Rules.
For those lucky students in Edmonton and Calgary, there is City Hall School. Teachers can apply to bring a class to spend a week at City Hall School. Each week has a theme. Through speakers and activities, students learn about municipal issues, the city around them, and how they are connected to it. "It's a full five days of being a part of city hall, just so connected and feeling a sense of ownership of the city," says Linda Hutt, City Hall school teacher in Edmonton, Alberta. "The whole city is your classroom and it's all there if you shine the right light. Kids are ripe for impression. I feel like I'm planting seeds for the future," Hutt says. "The City Hall School program empowers them with ways to look at the world and see that we are all equal."
Martha Beach is a graduate of Ryerson University's journalism program. Currently, she is a freelance writer and factchecker in Toronto.